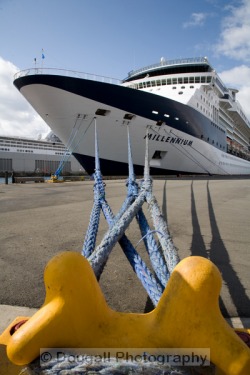 Celebrity Millennium in Port
Wide angle photographs can be quite dramatic with the perspective they offer but they can take in so much that there is no impact whatsoever. Personally, I love how much of an image you can render sharply with a wide angle lens and a small aperture.

The image to the left is the classic shot of a cruise ship in port. As these things are huge, you have to get back a ways if you ever hope to get a recognizable amount of the ship into a photo. While on shore looking for a "beauty shot" of our ship, I was walking towards the bow where I could see that it was tied to massive yellow cleats that were mounted right on the pier. Selecting 24mm on my zoom lens and f/13 on my camera, I was able to take a picture with considerable depth of field from the cleat to the bow off the ship. The bold yellow adds interest to the foreground and the nylon lines draw the viewer's eye up to the ship.

Placing leading lines in an image helps balance things in the foreground and background. They also help to guide the viewer from one portion of the photo to another. Leading lines may move up into a picture or across it, but an image is often stronger when connections are made between various picture elements.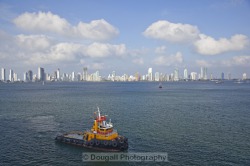 Cartagena Tug Boat
Here I was trying to capture the huge expanse of white skyscrapers in Cartagena, Colombia but I was struggling with the usual property of a wide angle lens as it turns mountains into bumps and skyscrapers into bungalows. Cruise ships pass quite close to Bocagrande on their run into the port which provides up-close images of some of the city's buildings. Unfortunately, by the time the full width of the Cartagena skyline is visible, you are so far away that you have to decide: wide angle for the entire cityscape or telephoto for a much narrower, but more detailed image.

I also had the option of trying a fast and dirty panorama shot with a telephoto lens, but the ship was moving and the speed of my Canon 5D Mk II in taking multiple images is best measured with a calendar. So, as I stared at the scene deciding what do, a tug boat slipped around the stern of our ship and pulled up alongside to shepherd us to the pier just in case the captain had some kind of seizure in the last 1/4 mile of our journey. While this made me significantly more at ease, it also placed a colorful picture element smack dab in the foreground. Now with the tugboat to draw the viewer's attention, I thought I could use the wide angle to capture this image.

No sight lines in this image, but a bright picture element to balance and fill the foreground.