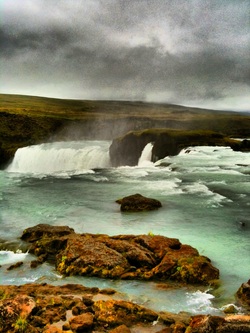 Yep, 27 days at sea from Southampton, UK to Quebec City via New York! This was really two cruises in one - a seventeen day crossing to New York and then a ten day cruise along the eastern seaboard to Quebec City - all on Crown Princess and all in the same cabin. It wasn't as claustrophobic as you might expect - we had a cabin with balcony so that on the days when it was warm enough we had extra room to use.

The weather? Well, temperatures ranged from around 20C in England and Canada to 3C in Greenland. We thought we had brought a range of clothes to wear but we still wound up buying extra along the way just to stay warm!

Was the sea ever rough? In a word - yes. Ever wonder where the hurricanes that rip up the east coast of North America go when they finally say goodbye to Newfoundland? Yep, right into the North Atlantic. We missed one stop in Greenland because it was too windy, foggy and icy to make harbour. We missed another stop later in Newfoundland because of hurricane strength winds between Halifax and Sydney, Nova Scotia. Don't even talk to me about the weather as we left Akureyri, Iceland bound for Reykjavik via the Denmark Strait!

Was it the best cruise we have taken? It rates right up there as one of the best. While you are on a great white cruise ship with all the comforts, it is still adventure sailing on a route like this. Ports were missed, other ports we arrived at late and the weather made sailors out of all who were on board, but the stops we did make in Shetland, the Faroe Islands, Iceland and Greenland were beautifully fascinating and worth the effort to get to.

Watch this space as we share more about the trip and some of our experiences along the way!