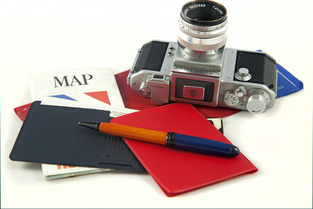 What camera to take on an Alaskan cruise is a question that we are often asked. Another good question is how is a cruise different from other holidays? To answer the second question first, a cruise is about the only place your ten story hotel glides past the landscape and associated wildlife at a majestic 10 miles an hour. As a result, you are towering above the flora and fauna and need both a wide angle lens for the scenery and a good telephoto lens for the wildlife. Over and over again I have noticed that if there is anything that is going to disappoint a photographer, it is how far away the critters in Alaska usually are.
Selecting any camera or lens is always an exercise in compromise among factors such as lens performance, speed, weight, zoom range and price. These are very personal choices and there are going to be folks out there who don't like my choices but here we go anyway.
If you are a casual shooter who doesn't want to carry around a big black Digital SLR, you are still going to want to capture the scenery and do the passing wildlife justice. Your best bet is a class of cameras called "travel zooms" which are relatively compact but still sport a large enough zoom lens to magnify those distant critters.
You may want to consider something like the Panasonic Lumix ZS20, which is a 14.1 MP camera with a 20X optical zoom (with built-in image stabilization) giving a magnification factor that will be useful in Alaska. In addition, the camera has a histogram so you can accurately judge exposure and a GPS that will mark not only the coordinates of the photo location but also tag it with the city, region and country - always handy when you look back at your images and wonder where they were taken!
If you are a photographer who wants to carry a DSLR with you, the trick is to carry enough equipment to get the job done and not an ounce more. I carry a Canon 5D MkII, a 24-105 IS zoom, a 70-200 f/2.8 IS zoom, a 50mm f/1.4, a 1.4 extender for the long telephoto, and a macro extension tube for any close up work with the 50mm. I also carry a Speedlite 270ex as my camera has no built in flash.
If I had to tell the truth, I rarely use the extension tube, the 50mm or the flash, but they aren't that big or heavy to carry so along they come. I do use the 70-200 quite a bit as well as the 1.4 extender. When I am out whale watching on smaller boats I have this combination on the entire time as whales just don't often approach the tour boats and the captains are required to stand off quite a ways from marine wildlife.
If you are using a crop camera like a Canon D60 or Rebel T4i, consider a 15-85 and a 70-300 or similar lenses. The advantage with these lenses is they are still competent performers but a lot lighter and less bulky than what I carry. Having said this, Jan has developed a real liking for our 300 f/4 IS as her telephoto lens of choice.
We are sometimes asked about super zoom lenses that go from wide angle to extreme telephoto (18mm - 270mm as an example). While these lenses do sacrifice some quality performance to achieve this kind of zoom range, if you are not a critical user who needs to make 16 X 20 enlargements, this might be a single lens solution for you.
My issue with these kind of lenses is how slow they can be. They are almost always variable aperture of something in the range of f/3.5 - 6.3, which means they gather a fair bit of light at the wide angle end - in this example f/3.5, but drop off to a very slow f/6.3 at the telephoto end of things. This is bad for two reasons: first, the light in Alaska can be quite dim on a heavily overcast day, making it a struggle to get enough light into the camera. Second, having to select a slower shutter speed because your lens can't gather enough light means you run the very real possibility of winding up with a blurry photo because the lens moved during exposure. If you can, try to find a lens (or camera) with image stabilization to help out with longer telephotos on overcast days.
Regardless of the camera or lens you buy, look for something that gives you at least a moderate wide angle to a long telephoto (28mm to 200mm in a 35mm equivalent) either in a single lens or as a combination.
Finally, we are sometimes asked about rain and ocean spray and its effect on cameras. From experience I can say don't be too concerned about this as we have taken any number of non-weatherproof cameras to Alaska with no ill effects. If you are really concerned, your local camera store can probably sell you a disposable rain sleeve for a few dollars to put your camera in during very wet weather. Again, I have carried these to Alaska but have not used them.
Interested in improving your photo techniques while exploring some of the most beautiful scenery in North America? Consider joining us on our September 16, 2013 Alaskan Cruise and Photo Seminar. We are sailing on Island Princess for 7 days out of Vancouver where you will have many opportunities to photograph the stunning Alaska scenery and wildlife. Check here for additional information as we plan to have a great time learning from one another and making some wonderful images.