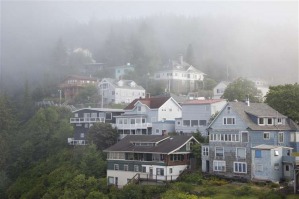 Fog in Ketchikan
Expect to get wet and chilly on an Alaskan cruise and then be thankful if you don't. Expect to be lonely out on deck if you want to shoot in rain and fog. Expect to be treated like a nutter if you are drawn towards being outside during inclement weather. That's OK though - as the water drips off the end of your nose, just tell people who stare that you're a photographer and that you like it like this!

Heavy overcast, low clouds, fog, mist and light rain - all can add interesting elements to a landscape photo. The accompanying photo of Ketchikan, shot from the upper deck of Celebrity Constellation, would not convey the same feeling if it was shot of a sunny morning. With light fog obscuring some of the houses and trees in the background, the photo suggests that this may be a town where it rains on occasion. In fact, Ketchikan receives 152 inches of annual rainfall!

Bad weather means little or no sun. This means no harsh bright spots or inky deep shadows. Your photos will have a pleasing range of tones from black all the way to white. Bad weather does not always lend itself to capturing vast landscapes as a gray sky often comes out looking perfectly white. In cases where there just isn't a chance to take that interesting landscape photo, go for the detail shot. Rather than the mountain range, look for alpine plants or interesting rock formations that don't show the sky.

Don't be afraid of bad weather - embrace it and welcome the opportunity to include some interesting elements in your pictures.