The answer to this question depends on what kind of photographer you are. If you prefer capturing the details of your surroundings, a telephoto zoom or even a macro lens may be a good choice for you. If you are a "big picture" photographer who prefers to capture sweeping vistas encompassing all you see then a very wide angle lens may be best for you. For me, if I could only take one lens on a Baltic cruise, it would be a Canon 24mm - 105 f/4 IS on my 5D or, on a small sensor crop camera like a T4i, a Canon 15mm - 85mm f/3.5-5.6 IS.

A Baltic cruise is largely urban exploration via cruise ship. Most itineraries are very port intensive with many ports along the way. Rarely will you get the chance to escape the city you are visiting to find wide open spaces and thus rarely will you need a telephoto lens longer than 135mm. In a city setting you will probably find a moderate wide angle to moderate telephoto zoom will serve you well. These lenses aren't particularly heavy so you can schlep one around on even the longest shore excursion. They are also small enough that taking it in and out of your day pack or wrestling on and off mass transport should be easy. Finally, a small camera/ lens combination means that you should be carrying a smaller camera bag. This means should should hear, as I did upon entering a museum in Zurich, the dreaded words "zu groß", which meant I had to leave my huge camera bag with the nice matron at the front desk rather than be allowed to knock around the museum with it.

The modern Canon image stabilized lenses promise to increase stability by three stops. That means that an f/4 lens could give you sharp images as if your were using an f/1.8 or f/2 lens. An f/3.5 - 5.6 lens could behave as if it were an f/1.8 - 4 lens. This means you should be able to get decent shots even in dimly lit churches and museums if they allow you to take photographs.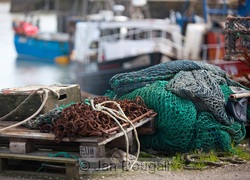 Gourdon Harbour Detail with f/2.8 Lens
Please remember this "three stop advantage" assumes you are a steady shooter. Never trust this rule of thumb - check it out for yourself. Long before you leave on that cruise, make certain you have the lens you are going to travel with in hand and visit your own local churches and museums that allow you to take photos inside. Experiment with various shutter settings to determine just "how low you can go". You may find that, depending on lighting conditions and whether you are using the wide or telephoto setting or bracing yourself against something solid, your results vary. Knowing this ahead of time will save you experimenting while on tour somewhere and prevent disappointment later.

I also pack a second, single focal length (prime) lens like a 50mm f/1.8, 35mm f/2 or the new Canon 40mm f/2.8. While not really much faster than either of the lenses I have recommended (once the image stabilization is taken into account), a fast lens like this is very small and easy to bring along. It also does a much better job of delivering a very narrow depth of field that will throw the background out of focus and let your main subject "pop". This effect comes from a wide aperture, not from image stabilization, so an f/2.8 lens will be able to provide a narrower depth of field than an f/4 lens used at a similar distance and focal length.

To sum up then, take a moderate to wide angle zoom lens, augment it with a fast prime and test your ability to handhold your camera and lens combination before you go.