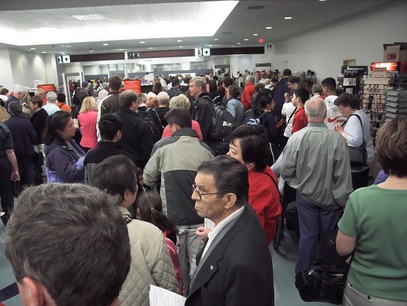 Passengers waiting to board their cruise ship in Vancouver.
No doubt about it, cruising can be a relaxing way to see the world at a leisurely pace away from the daily grind of busy lives. While cruise companies would like you to believe that you will be sharing your adventure with few other passengers, this is simply not the case. As ships increase in size, so does the number of passengers on board. With a number of ships now carrying 4000 to 5300 passengers each, they are really like floating cities.
While there are bottlenecks or choke points along the way
where you may feel like your part of a cattle call, the cruise lines have developed methods of quickly organizing and moving large groups of people. If you want to avoid feeling crowded on your next cruise, consider some of the following strategies:
1. Avoid the new, mega-ships. Holding in excess of 5000 passengers, mega-ships manage these numbers relatively well while at sea. Upon reaching land, it takes a while to disembark this many passengers and get them away of their shore excursions. Even if you are not taking a tour, you are left in town with a huge number of fellow passengers doing the same as you. The streets and shops become crowded and local sights are difficult to get near. God help you when two other mega-ships are in town at the same time that yours is!
My advice - find a "smaller" ship - there are great one out there that carry 1800 to 2300 passengers that will give you a more intimate experience. Several cruise lines also offer "small ship" options where there are 800 or fewer passengers on board.
2. Use Cruise TT (
Timetable)
to determine what ships are in port with you on a given day. Once you have chosen an itinerary and ship, drop by Cruise TT to see if there are many ships in port at the same time as you. You may find that going a week earlier or later means that there may be less passenger traffic in town with you. Travelling earlier or later in the cruise season also means there should be less ship traffic to compete with. The fewer ships in port with you, the less congested the streets and sites will be and the more you will enjoy your time on shore.
3. Consider private tours in the ports you visit. It is now possible to make your own tour arrangements, often at a discounted price, online before you leave. The cruise lines will scare you by telling you that you will be left behind if you aren't back in time (this is entirely true) and that the quality of the tours will not be a good (not entirely true). With the ability to read reviews online, you can usually be assured that the tour will be of equal or better quality th
an the ship can offer, and with fewer participants. Make certain that your tour gets you back to the ship one or two hours before you sail, just to give you a time buffer should things go wrong.
4. Go against the flow whenever possible. Many passengers go on tours early in the day when the ship had docked and shop once they are back. Consider doing your walking and shopping first thing and then take a later tour. If you are taking a ship sponsored tour, the ship will never leave until the tour had returned and everyone is on board.
Another option is to avoid the main tourist areas of a port and move a block or two off the well travelled tourist trail. Ask your crew on board where there are interesting things to see and do in port - often they know how to avoid the crowds and the tourist traps.
5. Think creatively on sea days. Many passengers find sea days the most crowded as everyone is on board and apparently on the same schedule. Everyone wants breakfast in the cafeteria between 8:00 and 10:00 am, lunch between noon and 2:00pm and dinner between 6:00pm and 8:00pm. If you are an early riser, no trouble, but lunch can be a problem. Rather than fighting your way through the cafeteria, consider a civilized sit down meal in the dining room or order in room service. Many ships have specialty restaurants that are open on sea days for lunch at no additional charge so this may be your chance to try a different location to eat. Most ships also have pizzerias as well as hot dog and hamburger stands so you can grab a quick lunch on the go without fighting for a table in the always crowded cafeteria.
6. Sit back and relax. There are bottlenecks you just can't avoid. One of them is usually in the embarkation and disembarkation halls - especially in Canada and the US where US Customs agents are involved
. Vancouver's Canada Place is a great example of this. With sometimes three ships sailing on a given day, the number of passengers who must pass through customs and check in can be quite large. Customs clearance and boarding usually won't start until noon and then will carry on until 4:00pm or 4:30pm. By the time you clear airport-style security, customs and make it through check-in, you will have been standing in line for quite a while. Carry the least amount of weight you can - drag or wheel your carry-on and leave the heavy bags with the longshoremen to wrestle on to the ship. Everyone has to go through this process and whether you arrive early or late, there will probably be some waiting in line. Disembarkation can be just as long, especially if US Customs is on high alert. We have stood in line for close to two hours waiting to clear Customs in Los Angeles. Having said that, we have walked right on to and off at ports like Southampton and Dover in the UK, so your mileage may vary!
Finally, enjoy the company! Ships become like small towns - almost everyone is up for a conversation about the weather, the scenery or the last tour they took. If you enjoy meeting and visiting with people, a cruise ship is a great place to make new friends and acquaintances.
So, the next cruise you take, bring your curiosity and patience and you will be rewarded with some wonderful new experiences to bring home with you.
Had any crowded experiences or have you developed ways to avoid/manage crowds? If so, leave us a comment to help fellow passengers!