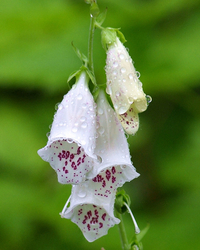 Alaska Flowers in Juneau
With apologies to the two Johnny's - Horton and Cash - who sung "
When It's Springtime in Alaska (It's Forty Below)
", it is NOT forty below at this time of year. And the Red Dog Saloon is in Juneau, not Fairbanks, boys!
Average temperatures in Juneau in May range from 40F overnight to 56F during the day. The record high in May is recorded at 80F. So, what does that mean for you if you're sailing to Alaska in spring? Just like summer and fall - dress in layers and be prepared for
sunny and warm conditions as well as wet and cold conditions
. No matter how warm it is or when you travel in Alaska, there are places where you'll need that extra sweater or jacket. You will never be warm enough as you stand in front of Hubbard or Mendenhall Glaciers - there is just too much ice cooling the surrounding air! On other occasions you will find yourself out on deck on in port in shirtsleeves because the temperature has crept up so much.
The marine climate of South East Alaska means that the climate is quite temperate at this time of year. May is also one of the drier months of the year (August gets twice as much rain) so you are bound to have warming sun for part of your cruise.
What draws people to Alaska in the spring? The same thing that draws them out of their homes in the lower 48 - fresh spring air, wildflowers galore, bright sunshine glinting off of snow covered mountains, and Caribou rubbing the velvet off of the antlers (OK, maybe not in all places in the lower 48, but you get the idea).
This really is the only time of the year when the fields will be awash in colourful wildflowers set against pristine white mountains still capped by gleaming snow. The clear, fresh air seems to enhance the colours of spring. Going to Alaska in May means that you will get a second chance to experience spring as it does arrive a bit later up there.
Finally, for all this beautiful weather and scenery, the cruise lines will charge you only half of what a cabin may cost you in the height of summer! With less people travelling at this time of year, the cruise lines want to entice as many passengers as possible in the early season. If you can travel in the spring, you will be the beneficiary of significant savings!