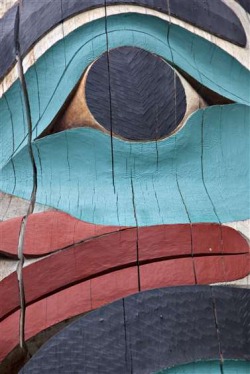 Totem Pole Detail, Anchorage
Robert Capa
, the famous 20th Century photojournalist and war photographer, once said "if your pictures aren't good enough, you aren't close enough." The only combat most of us will see is fighting our way through a buffet line on our favourite cruise ship, but the principle still applies today.
Often our first impulse as photographers is to take that wide, establishing shot to remember where we were or prove to our friends and relatives that we went on vacation. Some photographers, for some inexplicable reason, need a shot of themselves in the image - here is me in front of the Eiffel Tower, here is me at the Louvre, here is me in front of Notre Dame. Just try getting an unobstructed close-up of the Little Mermaid in Copenhagen without everyone's aunt and uncle in the photo. I eventually gave up trying for a clear shot and now have a photo of the Little Mermaid with a wonderful, extended Turkish family in the foreground.
By all means, take the establishing shot and the shot with your family in it, but stop and look for the details in the image as well. By moving in close, you'll capture the detail and texture of the subject that you often miss in the wide shot. You'll also reduce or eliminate any distracting background elements that may creep in. The photo to the right is of a totem pole in front of the Alaska Court System Building in Anchorage. The establishing shot includes the entire totem pole as well as the interesting yet distracting court building. Getting in close gives the viewer a chance to focus on the colours and shapes of the totem pole and to sense the texture of the wood.
I am sometimes asked "how close is too close?" The answer I always give is the old adage - move in until you think something is missing from the picture, then move back a step. Give this a try - get in the habit of taking a close-up for every wide shot. At the end of your trip, look at your pictures side by side and ask yourself which are the more compelling images? You may surprise yourself with the answer!