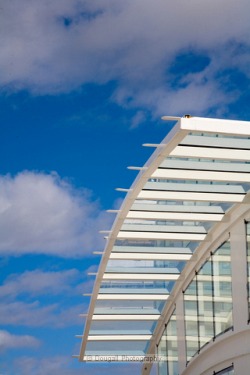 Cruise Ship Superstructure
Photographers are rarely bored. While others go ashore looking to shop or tour a museum, hardcore photographers look instead for interesting architecture, beautiful natural formations or a juxtaposition of color, shape or texture. This means we also tend to prowl the ship on sea days looking for ways to represent the look and feel of the ship. A ship is very much like most tourist attractions - they have been photographed a hundred times in a hundred different ways. The challenge is to capture something different that still represents the ship.

My suggestion is to look for details and for patterns. That sometimes means looking up, rather than out. Most cruise guests stand at the railing of the ship and photograph the scenery (or water) that is off to the side of the ship. Less often do we stop and look up to see if there are any interesting shapes. The shot to the left was taken on Celebrity Millennium from the Sunrise Deck looking up at the cover over the AquaSpa. I like the play between the white superstructure and the blue sky in the background. I wanted to isolate the curve of the roof so that the viewer would be drawn to the shape itself. The image reminds me of our last cruise and is an interesting study in shape and color for people who don't know that it is part of a cruise ship.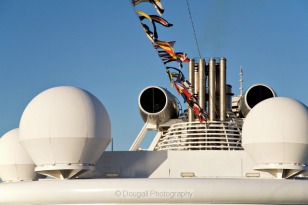 Sail Away Flags
A more obvious shot of a cruise ship but still one that requires looking up and isolating a part of the vessel. The sail away flags give the clue that this is a ship and not some industrial structure somewhere. Having the sail away flags in the image helps to establish this as a shot at the beginning of a cruise and could serve nicely as an opening image in a slide show done in
Photo Story 3
or
iPhoto
.
When you have some time on board your ship, see if there are shapes, colors and textures that you can isolate in your photos. The end results can be engaging both for you and others who see your photos later. Remember, less is sometimes more when it comes to photography.