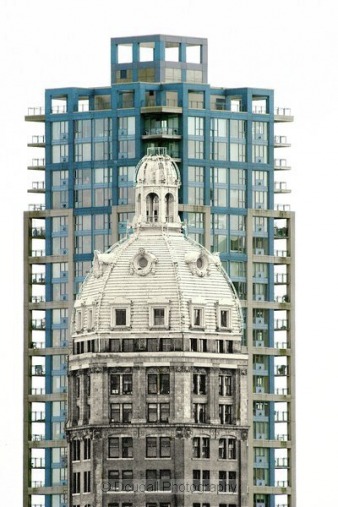 Sun Tower and Paris Place, Vancouver
If you are lucky enough to sail from the Port of Vancouver and your ship is docked at Canada Place, you will see a panorama of old and new architecture spread out in front of you. Most of this diversity is in the lower east side of the city as you can find old and new buildings visibly a part of the cityscape. On the west side of the city, the good burghers of Vancouver have allowed huge glass towers to obliterate any view of the older, more interesting buildings that now simply make up the understory of the urban forest.

The building in the foreground is the Sun Tower (originally the World Building), built in 1912 and, at 17 stories high, was the tallest building in the British Empire at the time of its construction. The cornice is adorned with sculptures of semi-nude women which was a major scandal in 1912. The building has been renamed several times and has been recently renovated to remain desirable office space.

The building in the background is Paris Place, a 33 story condominium block built in 1996. Paris Place, while towering over the Sun Tower, is still only the 37th tallest building in Vancouver at 101 meters. Currently the tallest building in Vancouver is the Shangri-La at 201 meters.

I chose to emphasize the age differences between these two buildings by desaturating the Sun Tower which also separates the foreground from the background in a more apparent manner. As new buildings have been constructed since this image was taken, you really can't replicate this view very well, but I am pleased to have old and new architecture in the same image as I think it represents the dynamic and changing nature of the Vancouver skyline.