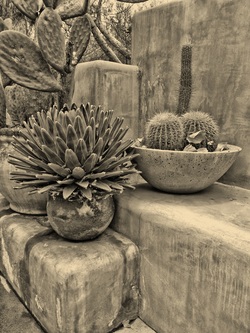 In this age of super saturated images, it's sometimes easy to forget the simple beginnings of photography when everything was rendered in black and white, sepia or, for a real change, selenium. When you strip away the colour from an image you are left with only tonal values from white to black, as well as the shapes and texture of the scene.
To create an effective black and white image you need to look at a scene in front of you differently. You need to pay attention to the highlights and the shadows, where they fall in the image and how they relate to one another. You need to ask yourself if there are sufficient differences between the lights and the darks of an image to give a pleasing range of greys in a final picture. If all the colours have the same tone, the final image will appear flat and muddy.
Looking for shapes and their textures in a scene help to determine where the interest will be and where the shapes should be placed in the final image. This is a great place to rediscover
the rule of thirds
.
The image at the left was photographed at the Living Desert in Palm Desert, California. The adobe walls in the original image were great but the texture was lost amongst the colour. Stripping away most of the colour and toning the image slightly brought out the texture in the wall and cacti and the complimentary shapes of all of the picture elements.
The colour image had too much information in it and the composition appeared to be quite flat.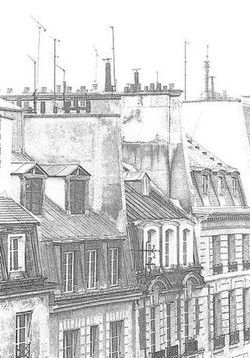 Sometimes a picture has so few colours in it that it is, by definition, already monochrome. The image to the left of Paris rooftops had shades of grey and beige and not much else - a flat and optically boring image. By converting it to a high contrast black and white image, all the boring colour was stripped away leaving only the shape and texture of the roofs to contemplate. The image has the added advantage of looking like a black and white etching or antique postcard and I think the image now reflects the age of the buildings themselves.

It takes a while to train your brain to think in black and white but once you start noticing shape and texture, you will be on your way to making some very compelling images. You can start by taking some colour images you already have and converting them to black and white in your favourite image editor. You will soon begin to see which ones lend themselves to being rendered in black and white. Once you can see the difference, you will be ready to go out and experiment in monotone images.