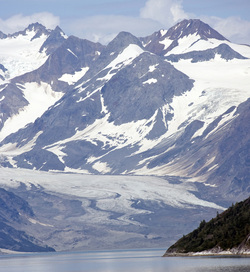 Glacier Bay, Alaska
We are off again to Alaska offering our cruise-based photo workshop to photographers interested in exploring some of the most beautiful scenery in North America. We are sailing on Princess Cruise's
Island Princess
, sister ship to
Coral Princess
and a Panamax ship. That means she is long and lean at 294 meters by 32 meters so she will fit into the Panama Canal locks. Built in 2003, she can accommodate 1970 passengers, giving her a more intimate feel than the mega ships currently being built.
This doesn't mean you miss out on any amenities, there is a traditional dining room
, a second one for "anytime dining", two specialty restaurants, a buffet and several other place to find food and refreshments. The ship is well laid out and easy to get to know. The centre atrium is beautiful with lots of seating and several places for live bands and other entertainment to take place. Princess provides a page on their web site that has a number of virtual tours of the ship, so if you would like to explore further,
click here
.
The itinerary will be taking us to Juneau, the capital of Alaska; Skagway, the gateway to the Klondike; and Ketchikan
, the Alaskan community with more rain and totem poles than anywhere else in Alaska. In addition, we will have a full day of cruising in the very scenic and protected waters of Glacier Bay. There will be several glaciers the ship will pull up in front of and then turn 360 degrees so everyone on board will have a front row seat to view these magnificent wonders of nature.
Our workshops will occur on the firs
t day of our cruise, before arriving in Ketchikan and on the last morning of our cruise. This will give everyone the opportunity to work on their photo and camera skills before reaching port and then sharing their Alaskan experiences at the end of the cruise.
We look forward to working with you during our upcoming photo seminar. Whether you are new to photography or an old hand, we can help you bring home photos to remember from this Alaskan cruise. Feel free to contact us at 306.241.8894 or grant@dougallphotography.com if we can answer any questions about this cruise or our workshop.