May 17, 2011 - Juneau is the capital of Alaska and the only American capital city that you can't actually drive in or out of. The city has a municipal area larger than the entire state of Rhode Island with its eastern edge being the border between Canada and the U.S. It's the only American capital bordering another country and the only US city to have a glacier within its city limits.
There is much to do and see in Juneau, some of which we discussed in an earlier posting. As this was our sixth time in Juneau, we decided to take it easy and do our own walking tour of downtown Juneau. We spent a great deal of time in a little art gallery called Annie Kaill's on Front Street that specialized in local Alaskan artists.
They not only had some very unique pieces but they took extra care to wrap and protect our purchases for our trip home. We also discovered the downtown postal outlet on Franklin Street not far from the cruise ship that had boxes and packing supplies for any size item you might want to send home rather than carry with you. We just mailed off a post card (which took about 10 days to reach Vancouver) as we didn't have that much "stuff" to carry home.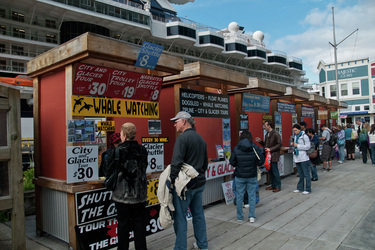 Shopping for Shore Excursions
We noticed that a number of our fellow passengers eschewed cruise ship excursions and instead used the dock side kiosks to book their tours. Prices were reasonable and the selection was good. In spite of dire warnings from the cruise industry that the quality of the tours would not be very good or that passengers would not be returned in time for sail away, everyone was on board and happy at the end of the day.

We chose to spend the afternoon on board Millennium to see what it was like to experience the ship while in port. We didn't have to share the ship with many other passengers, so it was a great time to visit the spa or the pools as there was little competition on a port day like this. As we were also teaching our photography workshop on this trip, our stop in Juneau proved to be one of the few days we weren't teaching, but we still needed time to look over our notes and adjust our slide shows based on what we still needed to cover.

We sailed at dusk after a beautiful, sunny day in Juneau - port days don't come much better than this!