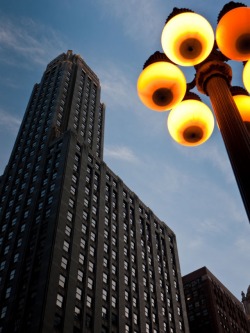 Carbide & Carbon Building, Chicago at Dusk
Dusk on Michigan Avenue - we were making our way from the John Hancock building to Millennium Park in downtown Chicage, passing some the most spectacular architecture this city has to offer. I have never felt so much like a country boy as I did walking the streets of Chicago, my neck sore from looking up at the magnificent buildings we were passing. I was looking for a shot that would capture a single building in a different way and was not having much success until the street lights began to come on. These street lights were old and historic, matching the age of many of the buildings. I decided to see if I could include one of these lights in a building shot so I gave it a try with the Carbide & Carbon Building, now a Hard Rock Hotel, and I am fairly happy with the results.

As this was a business trip, I left my usual Canon DSLR's at home and shot this with a much ligher Panasonic GF-1

Have any interesting stories about Chicago? Share them with us here!