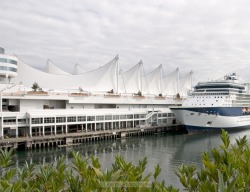 Jan and I love sail away on any cruise we take. We head for the prow of the ship for the view and the noise. On this particular sailing, the ship was nose in beside Canada Place and we could see much of the Vancouver skyline towering above us. As we have come to expect, the captain leaned on the ship's massive foghorn and the noise vibrated through ship and passenger alike.

We watched as the lines that held the ship were cast off and we floated away from shore on the start of our Alaskan adventure. Soon we passed under the Lion's Gate Bridge and set a northwest course to one of the youngest states in the Union.

No wonder so many cruise passengers make this trip every year. Alaska is a land of beauty, wonder and raw history. Every place you turn there is something to take your breath away – whether it's the snow capped mountains or the price of a latte on your cruise ship. Sea otters, salmon, gold, Russians and Tlingit have all helped create the settlements of southeast Alaska. The ports of call are steeped in history and it is readily accessible to cruise passengers even if they only have a few hours to visit.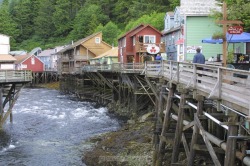 Creek Street Ketchikan
Ketchikan: often called the Salmon Capital of the World, Ketchikan is located at the southern extreme of the Alaskan panhandle, and will be either your first port of call or your last. Ships approach Ketchikan along the Tongass Narrows that separates the town from its international airport on Gravina Island. Why isn't there a bridge joining Ketchikan to its airport? Well, funding was set aside for a bridge until someone called it the "Bridge to Nowhere" and now there won't be any bridge at all.

Creek Street is one of the most popular places in Ketchikan to visit. What was once the cannery and red light district of town is now home to gift shops, restaurants, apartments, bed and breakfast establishments, and a cute little 19th century house of ill repute. The suspended wooden boardwalk, running along Ketchikan Creek, offers numerous photo opportunities as both meander from Dock Street to Stedman Street. A funicular runs from the middle of Creek Street up to Cape Fox Lodge where the views are worth the few dollar cost of the ride. Consider walking down "Married Man's Trail" back to Creek Street once you have had a look around.

For those passengers who are avid sport fishermen, Ketchikan may be the place to either book a cruise excursion or talk to one of the many vendors who line the dock to see what fishing trips are available. Other fishermen reserve their fishing trips directly with outfitters using the Internet as a large number of them are now online.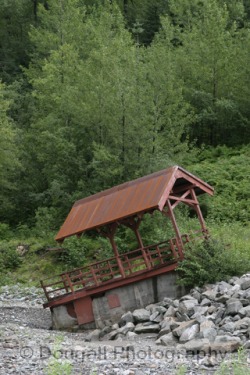 Last Chance Mine, Juneau
Juneau:the capital of Alaska is a playground for the million or so cruise passengers who visit each year. The area has been the traditional fishing grounds of the Tlingit for thousands of years and they had it pretty much to themselves until around 1880 when gold was discovered in the area. Not surprisingly, almost immediately a European settlement sprang up close to where the Princess Cruise ships tie up in Juneau.

We have made it a point of visiting some of the old gold mines in Juneau as they are relatively easy reach with many cruise ships providing tours to the Gastineau Mill (including an underground tour) and Gold Creek where you can try your hand panning for gold. While I have tried on several occasions to recoup the cost of our cruise through the search for gold in Juneau, I can report that there will be lots of gold left for you as I have taken none out of the ground myself.

Don't just think about looking for gold with the usual ship tours. Juneau is one of those ports where the pier looks like a Moroccan Bazaar with tour operators and taxi drivers ready to trade hard currency for tours to just about anywhere. Jan and I have taken taxi tours and even rented our own car while in Juneau and have explored places where cruise tours simply don't go. As an example, you might want to inquire whether any of the taxi drivers will take you to the Last Chance Mining Museum which is a little way off the beaten trail.

The Last Chance Mining Museum, above the town and off Perseverance Trail, will reward you with a look at an historic mine while not having to jostle with large numbers of tourists. The museum is located in an old compressor building that was part of the Alaska Juneau Gold Mining Company that operated from 1912 until 1944. One of the world's largest air compressors is still located at the museum as well as examples of machinery used for gold mining. There are also locomotives and rail cars used to move men or ore.

You will need to take a short walk down a trail that connects the parking lot to the mine. As the museum is not always open, you will want to call ahead at 907-586-5338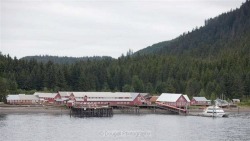 Icy Strait Point
Icy Strait Point: the first time we arrived at Icy Strait Point it was overcast and very humid. There wasn't a sound as the ship glided to a stop just off shore from the converted cannery dock that served as the terminus for the tender run to shore. Smoke from house chimneys hung in the air and curled around the high hills to blend with the low slung clouds. Icy Strait claims to offer the "Real Alaska" adventure, and it appeared to have the perfect setting to fulfill that promise.

Icy Strait Point is a few miles down the road from the town on Hoonah where cruise ships tender their guests to. With no more than one ship calling here each day, it is possible to get a relaxed and uncrowded look at the community and surrounding countryside. Passengers have their choice of exploring Icy Strait Point itself with a museum, gift shop and cultural displays or going into Hoonah to look around or take shore excursions further afield.

Excursions can be quite exotic and include bear watching expeditions. Our bear watching excursion took us through town and into an incredibly beautiful wilderness. I have to report, given the wildlife that Jan and I saw, bears near Icy Strait Point look remarkably like Sitka Deer and not at all what you might expect. In spite of the disappointment of not really seeing bears, just experiencing in the wilderness was worth being on this excursion.

For such a small community, the native corporation has provided visitors with many things to do that meet all activity levels and interests. It is quiet enough here that a short walk down any hiking trail will leave you with the feeling that you are all alone in the forest. There is so little boat traffic that whales surface and dive a few yards away for the pier. If you are lucky enough to be on an itinerary that stops here, you will appreciate how close nature is to you.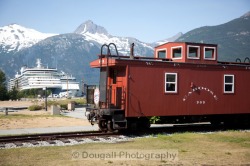 Skagway, Alaska
Skagway: perched at the north end of the Lynn Canal, came into existence in 1887 when William "Billy" Moore and his son became the first European settlers to claim a homestead in an area where the Tlingit people had lived and hunted since prehistoric times. Skagway, or Skaguay, has been translated from the Tlingit language to mean "a windy place with white caps on the water" or "Home of the north wind", or as several locals like to suggest "cold place where crazy Europeans live".

We have found that for a small town there are many things to do in and around Skagway. By far the most popular is a train ride that follows the route gold prospectors took to reach the Klondike. You can board the White Pass Yukon Railway near your ship and take a journey that will take you back to the turn of the last century when the line was first opened.

The railway, not surprisingly given its name, follows the White Pass, one of the two routes that miners followed into the Klondike. While riding up the pass, think of these hardy souls who had to move one ton of supplies up to the Canadian border before the Northwest Mounted Police would allow them into the country. Don't worry which side of the coach you sit on. The train runs up the pass and then, without turning around, backs down again. Passengers with an "inside" view on the upward run trade seats at the top so that everyone gets an "outside" view of the pass.

Upon returning to town, and if you have the time, consider enjoying another piece of history by taking a Skagway street car tour in vehicles that were the original touring cars in Yellowstone and Glacier National Parks.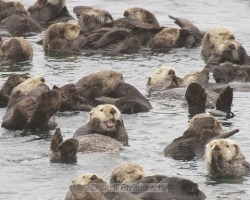 Sea Otters Hanging Out Together
Sitka:
located on the west side of Baranof Island and protected by its own archipelago, this community of 9,000 is located in an area where the Tlingit people have lived for tens of thousands of years. Russians settled in Sitka (then known as New Archangel) in 1799 to pursue the lucrative sea otter fur trade and Sitka became the capital of Russian America in 1808.
The Sea Otters that brought the Russians to this part of Alaska have returned from the brink of extinction and live in large numbers in the Sitka archipelago. If you want to see these mammals in any number, Sitka is the place to book an excursion with a company like Allen Marine which operates cruise and independent excursions that go out into the archipelago to look for seals, sea lions, whales and huge rafts of sea otters just floating about in the water.

On land, Sitka displays its Russian heritage in many ways, the most predominant of which is Saint Michael's Russian Orthodox Cathedral at the intersection of Lincoln and Matsoutoff Streets; and by intersection, I don't mean on one of the corners, but right in the middle of the street. As you drive by, remember to make that right-hand turn at the proper time or you will in inside the church! The church was built in 1848 and rebuilt after a devastating fire in 1966.
In Sitka you can choose to walk around the community or head out on a marine excursion, but whatever you choice, Sitka remains a fascinating port of call in Alaska.
Whether you are looking for fish, gold or furs, Alaska history is on display in any of the ports you visit. Take a moment and you just might be drawn back to another time long before large white cruise ships easily plied Alaska waters.

We will be visiting most of these ports on our upcoming photo seminar on-board Celebrity Millennium. Join us for a great vacation where you can explore Alaska and learn more about photography at the same time.