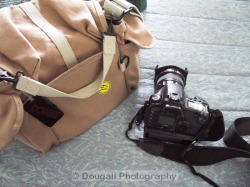 When it comes to carrying photo gear on an Alaskan cruise I do a pretty good imitation of a Sherpa with the amount of stuff I pack. I try to balance what I want to bring with what I am willing to carry but sometimes that balance is difficult to achieve. For many cruise passengers an Alaskan cruise is a once in a lifetime thing and they don't want to miss any photo opportunities by not having the right gear.
The trouble is, if you try to bring everything you think you need, you are going to wind up carrying too much gear and regret having to move it around. I started going to Alaska with lenses ranging from 16mm to 800mm, some of which I used a great deal and some of which I didn't use at all. I have limited myself now to three lenses - a wide angle to normal zoom lens, a short to long telephoto zoom and one fast prime. I supplement the long telephoto with a 2X extender and have been able to capture everything I need to with this range of lenses.
The choices I make for gear may not be the right ones for you, but I would pay attention to the "
Dougall Tour Size Theorem
" which states that the larger the tour group, the shorter the lens you should bring along. As an example, 60 people in a tour bus means that you really are not going to be stalking wildlife to any degree and swinging an 800mm lens in close quarters is going to be a dangerous exercise. On the other hand, six of you in a Land Rover where you can get out and perhaps encounter wildlife may call for unleashing that behemoth lens in the open.
Everything I take to Alaska goes into a
Think Tank "Airport Antidote"
backpack. The two advantages to this backpack are that it holds all the gear I want to use (or carry) and it will fit under the seat of the small flying culverts that pass for airplanes flying in and out of Saskatoon.
My cameras are full frame and 1.3 crop, so I use lenses that work with these bodies. If you are using a 1.6 crop camera, you will want to convert these lens choices into equivalent ranges suitable for your camera.
So, into the Think Tank backpack I place the following:
Canon 5D Mk II with battery pack and 24 - 105 f/4 lens:
as a landscape and street photographer, this camera and lens combination is the one I use 80% of the time. It works great for most landscape images, in town situations, and even wildlife if it is close enough.
Canon 1D Mk III w/o lens:
my wildlife/high speed camera. A 1.3 crop camera but a speed demon that almost instantaneously locks focus on just about anything you point it at.
Canon 70- 200 f/2.8 IS lens:
a very sharp and versatile lens that, in combination with the 2X extender (yes, there is a small drop in image quality when you use the extender) makes it more useful to me than my previous 100-400 lens. I simply love the f/2.8 aperture of this lens as it can be quite dark at times in Alaska
Canon 2X extender:
for the 70-200 lens
Canon 50mm f/1.4 lens:
really, any fast prime lens will do for those times when it is too dark/cloudy to shoot with any other lens. Any other fast prime lens could be substituted here and I have taken a 35 f/1.4 on occasion instead.
Canon Speedlite 270EX:
the smallest flash that Canon currently makes and useful only for close-up fill flash. Hey, I shoot outdoors 99% of the time and have to think about how to use a flash every time I take it out :-) A huge Speedlite would be a waste for me to carry. If you are a big user of flash, throw that Speedlite 580 in!

Canon 10X30 IS binoculars:
more reach, less shake. I am in love with these binoculars and an Alaska cruise cries out for a set to be brought along. With Canon's image stabilization technology, these are easy to hold and look through.
SONY Vaio 10" Netbook:
this is where I backup my images to and store the GPS data I collect as I shoot. If you don't shoot a great deal you can just bring memory cards along and burn the images to CD's on the ship or at Internet Cafes you find along the way.
500G external hard drive:
my netbook only has a 250G hard drive so it won't hold two week's worth of images.
JOBO GPS:
Canon does not have a GPS solution at the moment so I use this device to mark each image with GPS data. As the JOBO does not hold very many data points, I need to download the data (and photos) to my netbook, erase the data from the JOBO GPS and start again.
Various chargers, filters, brushes and cleaners:
I wish I didn't have to use all the space for this stuff, but it is important to have along.
I often also carry a small "digital derringer" such as a Canon S90 for times when I don't want to schlep the heavy gear around.
The way to manage all this once I am on the ship is to bring along a
DOMKE F-4AF
for daily use. As the DOMKE is essentially a canvas bag, it folds flat into my suitcase and can be reconstituted upon arrival on our ship. This serves as my day bag, holding one of my cameras with a short lens as well as the 70-200 in another compartment. The outside pockets can hold accessories or bottles of water.
I have both a Lowe-Pro neoprene neck strap and E-1 hand strap on both cameras. While I like the neck strap as it stretches and gives a bit when I have the camera around my neck, I usually carry my camera by the hand strap. It is much easier for me to carry a heavy camera and lens off the end of my hand as opposed to around my neck. It also makes the DOMKE weigh a lot less as I carry it over my shoulder.
Think about what you really need on a cruise and try to leave the rest behind; your back and neck will thank you for it! During
our seminars
we will help you with any of the equipment you bring along. Whether it is a small digital camera or a full SLR with extra lenses, we are there to help you in any way we can.