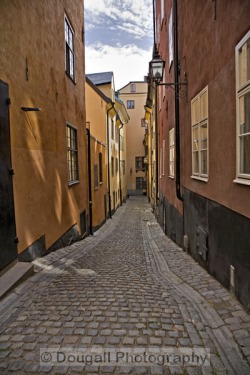 Back Street in Gamla Stan
Many first time cruisers are as afraid of the shore excursions as they are of getting seasick. They believe that they will be trapped on a bus full of octogenarians slowly moving from tourist trap to tourist trap, pausing only for the occasional photo stop or pee break. You can avoid this scenario with just a little preplanning that will let you chart your own course and go your own way. Here we have outlined some alternatives that you might want to consider to keep you from seeing everything through the window of a tour bus:
1.
Wait until you step off the ship to book your tour:
this doesn't work in all ports of call, but in some, local tour companies set up kiosks to hawk their services. If you like to be flexible and take things as they come, you can find some good deals on interesting excursions right on the dock. A number of ports also have hop-on-hop-off buses stopping close to the pier. These buses will give you an entire tour of the city and allow you to get off and explore whenever you want.
2.
Book ahead of time via the Internet:
typing the name of the port followed by "city guide" into any search engine will get you a number of leads to local tours and guides. This doesn't help determine the reliability of a guide halfway around the world though. We use sites like cruisemates.com and cruisecritic.com to look for recommendations from other cruise passengers who have visited in the ports we are interested in. Booking a local guide is best in cities where there is little English spoken or where the tourist infrastructure doesn't cater to foreigners. We have booked our own car and driver in St. Petersburg on a couple of occasions and were able to visit a number of places where only the locals go.
3.
Cruise ship walking tours:
while you will still be with a group of fellow passengers, walking tours will usually take you to the center of town or to places where tour buses simply can't go. You will still probably hit regular tourist attractions, but you will be able to experience the port at street level and at a more relaxed pace.
4.
Your own walking tour:
if you arm yourself with a little bit of local information, you can often go exploring on your own and then find your way back to the ship the same way you left. Cruise ships will provide maps that will help you navigate most ports of call. Using the Internet to research a port ahead of time is a good strategy as is
asking your crew
about the interesting things to do in port. There are a number of iPhone apps that will help you explore as well. Take a look at
Real Southeast Alaska app
that will provide information about major ports and as well as less visited ones.
Cruising Alaska: A Guide to the Ports of Call
is an entire book (and costs as much) that you can carry around on your iPhone.
City Listen
provides MP3 sound files that let you take your own walking tour of some cities including New York and Paris. Continuing in the vein of "there's an app for that", the iPhone apps store has guidebooks and maps for most major ports of call, giving you the ability to carry a great deal of information around in your pocket.
5.
VIP Cruise Tours:
more expensive than regular shore excursions, these tours have fewer guests and go to more exotic places. These are great for passengers who want a little more excitement but don't want to make independent plans. As an example, in Juneau, a VIP gold mine tour takes guests into an abandoned gold mine.
6.
Tours with local photographers:
it used to be you had to book these kind of tours on your own, often at considerable expense. Now, passengers can find cruise tours lead by local photographers who will know the places to go at the proper time to catch the best light. There is a great photo expedition you can book on some cruises that takes you whale watching and hiking with a local photographer in Juneau. Princess also has several photo expeditions you can book on the Canada/New England run.
If you are interested in finding the path less travelled, there are a number of options available to the resourceful cruise ship passenger. If you have your own ideas about getting off the tourist trail, please share them with us here.