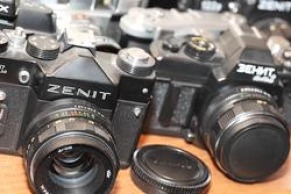 Russian Cameras
Someone once said that having two of something is a happy accident, three of the same thing is a collection and four or more is some form of obsession. I suspect that makes me obsessive is some way as I not only use cameras on a daily basis, I also collect them. Not just any "them" though, but cameras that were manufactured in the former Soviet Union and dependents such as East Germany.
Many of these cameras are not functional and have never been. The managed economy of the Soviet Union required factories to fulfil monthly production quotas of things that looked like cameras - whether they worked or not was immaterial. This is particularly true of my
Zenit 16
produced between 1973 and 1977 by the
KMZ factory
owned by the Soviet Ministry of Defence. While rare today, it was produced in sufficient number and without any quality control for many original owners to return them for replacement or, as some stories go, to just throw them against the side of the store that sold them in Moscow.
The Soviet-era camera makers played fast and loose with the designs of other western manufacturers. The production of a
Salyut-C
, looking suspiciously like a Hasselblad 1600F, has earned this camera the nickname "Hasselbladski" but not the reputation for reliability of the Swedish camera..
Early
FED cameras
were more reliable and almost exact copies of German Leica cameras. These cameras were produced between WWI and WWII in what amounted to an
orphanage
, run by the Soviet secret police, that had previously produced furniture and electric drills.
Cameras are fascinating as examples of industrial engineering that are often, like fine watches, at the pinnacle of design principles and craftsmanship. Today almost all film cameras are next to worthless as no one is interested in old analogue equipment.
Nikon F5
's, which used to command $3200 back in 1996 when they were first introduced, now can be had in excellent condition for $400! A
Nikon F90s with MB10
booster had an original cost north of $1000 and is now available for less than $200 if you look around. What is fascinating is that old Soviet cameras that used to only cost $200 -$250 are still selling in the same range. Who knew that Russian cameras would maintain their value so well!
If you have an old family film camera, hang on to it. Put a few rolls of film though it and enjoy the analogue feel of some of the best made mechanical wonders of the 20th Century!

If you want to read more about old cameras, check out "My First Camera" and some of the postings about where folks started their photographic journey.

I am regularly asked if someone can attend our photo seminars and bring their film camera along. The answer is always the same - if you think there is more you can learn about your film camera, bring it along!

Do you collect cameras? Do you have a favourite film camera? Share your obsession here!