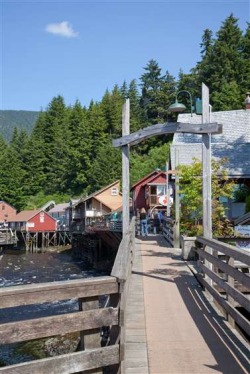 Creek Street, Ketchikan
Sitka was founded because of the sea otter fur trade. Skagway started because of the Klondike Gold Rush.
Ketchikan
came into existence because of salmon. In 1883, a man by the name of Snow set up a salmon saltery near present day downtown Ketchikan. Soon after, a cannery was set up on the Ketchikan River and was followed by the stores and homes needed to support the developing town.
Ketchikan is located on the western shore of Revillagigedo Island at the southern extreme of the Alaskan panhandle. The Tongass Narrows is the channel cruise ships take into and out of Ketchikan and separates the town from its international airport on
Gravina Island
. Why isn't there a bridge joining Ketchikan to its airport? Well, funding
was
set aside for a bridge until someone called it the "
Bridge to Nowhere
" and now there won't be any bridge at all.
Ketchikan is rich in totem poles. Visits to
Totem Bight State Park
,
Saxman Village
,
Potlatch Totem Park
, the
Totem Heritage Cente
r
, or even
Whale Park
in downtown Ketchikan will give you plenty of opportunities to view and photograph totem poles up close.
Given the origins of the town, it is small wonder that fishing charters are quite popular here and that many cruise passengers use this port to try their luck catching a salmon or two.
If you would rather stay on shore, there is shopping galore in the compact downtown core. A short distance beyond downtown - and well worth the walk - is
Creek Street
, where today small shops ply their business where bars and brothels like
Dolly's House
used to stand.
Ketchikan has a great hardware/souvenir shop/grocery store right at the pier where savvy cruise passengers pick up water, soda and snacks to haul back on board ship. Try to make the
Tongass Trading Company
on the pier one of your last stops.
This port is a great introduction to Alaska if it is your first port of call and an even better place to do the things you still haven't done if it is your last stop. Be prepared for the rain that falls very regularly in Ketchikan, but get out and enjoy yourself in this wonderful port of call.