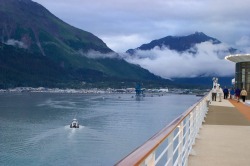 Wet Evening in Seward
If you like to gamble, you are just going to love Alaskan weather! In one cruise you can experience the arctic and the tropics as Alaskan weather is notoriously changeable at a moment's notice. A great deal of your cruising in south east Alaska will be through temperate rain forests which get their name because - well, it gets wet there! There tends to be less rain at the beginning of the cruise season and more towards the end. There is more daylight per day in June and July with more hours of sunshine instead of cloud.

Glaciers, on the other hand, can be counted on to be pretty consistent - any time you spend in front of one is going to be cold. Glaciers develop their own climate and winds. As you approach particularly large ones like Hubbard Glacier in Yakutat Bay, the winds blow down over the ice and directly across the deck of the ship. Bring your mittens because you will standing beside the largest air conditioner in North America!

The best you can do is be prepared for both the sun and the rain and be happy if you never have to put your rain gear on!