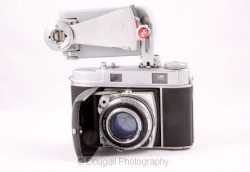 Kodak, Retina IIc
So - let's have a little fun, shall we? I'm going to tell you a story and then you can tell me one.
At the risk of identifying myself as an old coot, I am going to tell you about the first real camera I ever used. Film camera. Rangefinder camera. Collapsible camera. How is that for old school?
While I really began taking pictures with a plastic, toy twin lens reflex that took 127 film, it essentially fell apart in my hands after only a few uses. The first "real" camera I owned was given to me by an uncle who had upgraded his own equipment and I became the proud owner of a 1955
Kodak Retina IIc
. I immediately fell in love with it – not only was it the same age as me, but it had that highly polished, precision German feel as they were built in the Kodak owned, old Nagel-Werke factory in Stuttgart.
It had several quirks that I had to get used to, including a film advance lever on the bottom of the camera. The 50mm f/2.8 Schneider-Kreuznach lens collapsed into the body, making it a fairly compact camera to carry. I loved the quality of the images that came out of that camera and I ran a great deal of film through it while it was my primary camera.
Something I remember almost as much as the camera itself was the flash attachment that took flashbulbs. You really aren't old school until you have licked the base of a flash bulb, shoved it into the flash socket and had it immediately go off in your fingers – the heat of the flash sticking the bulb to your skin…… Talk about the faith you need to repeat that performance and hope for different results. I still have that camera (and flash), and while I haven't used either in years, they have a special place in a list of wonderful cameras I have used.
Now it's your turn. I have opened up the comments for this part of the blog. Please feel free to share
your "first camera" stories with us!
Just click on the COMMENTS link at the top right and start typing. I can usually approve posting very quickly.