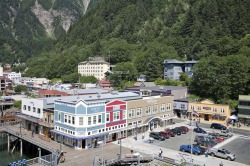 Juneau, Alaska
Juneau
, the capital of Alaska and until the mid twentieth century the largest city in Alaska, is a playground of activities for the million cruise passengers who visit each year. Located at the north end of the Gastineau Channel, this town of 30,000 has been known at various times in its past as Rockwell and Harrisburg.
Within the town limits (which are actually quite large), visitors will find the
Mendenhall Glacier
about 12 miles from downtown. The glacier has been retreating for over 500 years with Mendenhall Lake forming in front of the glacier in 1958.
Mount Roberts towers above the southern portion of Juneau where the
tramway
to the top will eliminate the need to slog your way to the summit under your own power. On a clear day the view from the top of the tram is spectacular and the good folks of Juneau has provided quite a nice souvenier shop, restaurant and interpretive center at the top. Providing the trails are not closed due to bear sightings, the walk down from the top, while it takes a little while, is a beautiful way to enjoy the scenery and perhaps a glimpse of wildlife along the way.
Cruise ships dock at the south end of Juneau where you can step off the ship and start shopping or join a tour without walking very far. Ship tours around town are quite popular as are whale tours out of
Auke Bay Harbor
. Float planes take off and land near the cruise ship dock taking guests out to view (and land) on glaciers. Juneau is also a great place to go out on a fishing trip should you be so inclined.
Many independent tour operators set up booths on the dock to entice passengers to join a huge variety of local tours. Juneau also has several "hidden" attractions if you care to head out on your own or with a taxi tour. The
Last Chance Mining Museum
, above the town and off of Perseverance Trail will reward you with a look at an historic mine without all the tourist embellishments. If you care to drive a bit further, there is the wonderful
Shrine of St. Therese
at mile 23 on the Glacier Highway. The grounds of this peaceful retreat are beautiful to walk around (and photograph). There is also a sea side, outdoor labyrinth that can be walked and contemplated.
This is a great port with a great deal to keep you busy regardless of your interests!