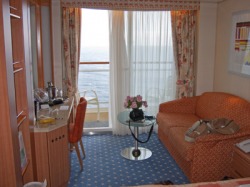 Veranda Stateroom
Many first time cruise guests are afraid they are going to look like circus clowns popping out of tiny car as they exit a "stateroom" that is no larger than the change room at their local Walmart. Have no fear - if you are on a modern, large ship, the staterooms will contain space for a double bed, night stands, a desk, sometimes a small sofa, a bathroom with shower and plenty of closet space to store the all the souvenirs you bought on shore.
Stateroom selection can be a tricky thing though - do you save the cash and go for an inside room without a window or do you plump down for an outside cabin with a balcony? Some cruise itineraries do not present much to look at between ports - many Caribbean sailings come to mind. On these cruises there is little to see between ports except the open ocean. Alaska is different; the scenery between ports is spectacular - to the point that many hate to take the time to go to the dining room and miss what's going on outside. Cruise guests in Alaska have been known to order in room service and spend their time watching Alaska from their balcony!
Inside and Ocean View cabins on newer ships can be in the 170 square foot range. A Veranda cabin may be 190 square feet with an additional 40 square feet for the balcony. The premium for moving up to veranda from an inside stateroom can be a cost increase of 75% or more though. Looking for a good cruise sale (or cabin upgrade) can sometimes cut this difference to a smaller amount. If you are thinking about a cruise and want to know what cabins are available, consider contacting our travel agent,
Nancy Bogert
to give you an idea of cabin size and pricing.
Pick the cabin, and the price point, that you are most comfortable with knowing that, even with an inside cabin, there are plenty of open decks to watch the scenery from. On the other hand, if you feel like you can splurge a bit, there is nothing better than having breakfast on your balcony as you watch the mountains glide by just beyond your balcony railing.