Grant Dougall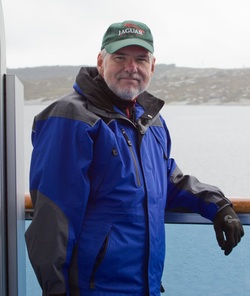 September in Nuuk Greenland
I have been a teacher and a photographer for over thirty years now and have taught at every grade from 3 to 12. For good measure I have also taught university and community college classes. Over this time I have taught photography seminars to teachers, students, parents, and other interested participants. You can view my LinkedIn profile
here
and our iStock portfolio
here
.
The seminars Jan and I offer always focus on your learning needs. We present information in simple, interactive and engaging ways - you are, after all, on holidays and should have a great time while you are learning! You will have opportunities on board to practice new skills that you can then use on your shore excursions. You will enhance your own photographic style to help you create photos with impact that you will be proud of. You will share and discuss some of your best work with other participants so we can all improve our picture taking. Of course, if there is something you would like to learn about your camera, we will help you with that as well!
We have a number of sessions planned for each cruise we host but we always adjust the content to provide you with the knowledge and skills you require. Optional sessions will take place out on deck or in port so you can practice your new skills. Please
email us
or phone us at 1.306.241.8894 if you have any questions at all. We provide all of your sessions during sea days so that you can pick and choose whichever shore excursion you would like to take. We often lead one photo walk in a port so that we can work with you on land if you wish to come along.
Remember, this is your seminar - we will strive to make the experience as productive as we can!

---
Jan Dougall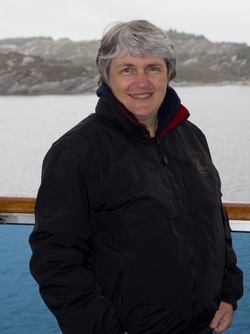 Just off the coast of Greenland
Jan has also taught for over thirty years and has been a photographer for just as long. With an interest in landscape and macro photography, she has developed her own photographic vision which she enjoys sharing with others. Her work is an integral part of the
Dougall_Photo portfolio
at iStock. Her years of experience as a teacher show as she explains complicated concepts and techniques in simple, straightforward ways.
Being frequent cruisers to Alaska, both of us are intimately familiar with the itinerary you will be on, the ports of call and the scenery you will see. We can provide you with not only great photographic knowledge, but where the best places are to create those photographs! Don't hesitate to ask about what to expect at a particular port or on a ship excursion.
If we can help make your cruise a little more special, don't hesitate to ask.
---

Testimonials from previous seminar participants:

"What a great way to mix holidays with learning! I thought this would be hard, but it was alot of fun"

"I have wanted to find the time to learn more about my camera but I never did. This course helped me do just that!"

"Nice combination of facts and practical application - I can now be proud of my photographs."

"I forgot my charger so I couldn't use my camera. Grant lent me his for the workshop. Thanks!"

"Thanks for being so patient. You never made me feel like my questions were stupid."

Wow, you know a lot about photography! Thanks for sharing such practical tips."

"Going out and taking pictures together was the best!"

"When are you offering another workshop? I want my mother to take one :-) "

Dougall Photography- Simply Engaging 415 Herold Court, PO Box 39036, Saskatoon, SK, CANADA, S7V0A9 Phone: 306.241.8894 Email

All text and images copyright Dougall Photography. Copying or reproduction in any form is prohibited without express written permission.