Frequently Asked Questions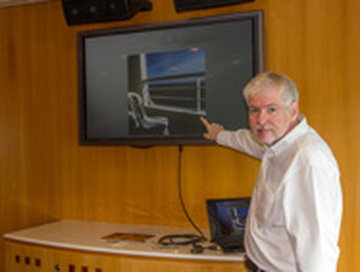 Presentation Onboard Celebrity Millennium
We are often asked the same questions by clients and friends thinking about taking one of our seminars. We know that booking a seminar is a leap of faith as you probably don't know us or the quality of our work. To help you with your decision and hopefully answer some of your questions immediately, we have included this FAQ page.
Please don't hesitate to call us at 1-306-241-8894 or email us at
info@dougallphotography.com
if you have any questions at all.
1.
I will be travelling with my wife/husband//friend but they aren't interested in photography - do they need to take the seminar as well?
While two or more of you have booked the cabin, only the person/people attending the seminar need to pay the registration fee. The fee is $250CDN pp attending.
2.
I see photo seminars costing thousands of dollars - why do you only charge $250CDN for yours?
We wanted to keep the pricing in line with a good shore excursion. The seminar is about 6 hours which we feel is a good balance between giving you value for your money but not using up all of your vacation time on board the ship.
3.
Who are your seminars aimed at?
Whether you have just bought your first compact camera or are a long time DSLR user, anyone who wants to learn more about their camera and wants to improve the quality of the images they create will find this seminar of use.
4.
But I don't know a thing about my camera!
Don't worry, with two instructors, we will be able to give you the assistance you need. Optional tutorial sessions are usually available that you can come to if you want more personal time with us to answer your questions.
5.
How do you meet the learning needs of so many different learners?
First, we will have a conversation with each participant before the cruise to determine what in particular you would like to learn so we can include it in the seminar. Second, we check over and over again during the seminar itself to ensure we are meeting your learning needs. Third, we have optional tutorial sessions where you can receive small group or one-on-one instruction to provide more learning time.
6.
So what exactly do I get for my $250CDN?
- Six hours of classroom instruction broken up over smaller, two or two and a half hour sessions
- On deck photo assistance during Glacier Bay viewing experience
- Optional camera tutorial sessions should you want additional assistance
- All seminar material including:
- photo handouts/guides for each port
- handout/guide to taking better photos
- all Power Point presentations used during the seminar
- all material provided to you on a USB drive
7.
How do I pay for all this?
When you decide to book your cruise, either through your own travel agent or with our partnered travel agent, they will handle the cruise booking and payment details. A deposit is required at time of booking with the balance due approximately sixty days before the cruise. The deposit is refundable up to the time of final payment. The photo seminar is payable directly to Dougall Photography at the time final payment is due for the cruise. Payment can be via PAYPAL or an international money order can be sent directly to us.
8. I travel alone - can I still book this cruise?
Of course, just understand that most cruise lines charge a "single supplement" that is more than the cost of a single guest but not as much as two guests.
9. How often have you cruised in Alaska and how often have you been on this ship?
Let's just say more than ten times and on most of the itineraries offered in Alaska.. If you come on this cruise, we would be happy to answer any questions you may have about the ports we will be stopping in and the shore excursions that are available - just email us or give us a call! We have sailed twice before on Coral Princess which is the twin sister to Island Princess.
10.
This web site is all well and good, but how else can we learn more about you and your qualifications?
Great question as you always want to know how good your hosts are. We have included some anonymous comments on our "
About Us
" page so you can see what others have said about us. Grant maintains a professional profile on
LinkedIn
and you can follow us on Facebook
here
or
here
. As stock photographers, we sell our work on iStock and Getty Images, and our portfolio is
available here
. We have placed a few examples of our photos
on this page
of our web site - in fact, every photo you see anywhere on this site has been taken by Jan or me.
11.
What do you mean when you say you are a "stock photographer" - do you do portraits of sheep?
I guess we could do portraits of farm animals, but we don't :-) We are represented by iStock and Getty Images who in turn license our images to buyers for use in online and print publications. We specialize in travel and destination photography as well as some studio work.
12.
Great, now I know what stock photography is. Are your pictures published anywhere?
Yep, we have sold over 10,000 photos all over the world. If you want to see a very small sample of our photos, follow any of the links below:
Saskatoon Secondary Schools Athletic Association
ScienceDaily.com
Pology.com
MarieClaire.com
About.com
ScienceDaily.com
MSN Lifestyles
How Stuff Works (Brazil)
GetHomes

Improve Photography
13.
Aren't there free photo workshops on board the ship I could just take instead?
Yes, there are.They are often an hour in length and have a number of passengers attending. They are offered by very friendly and overworked photo department staff who will do their best to answer all the questions you have about your camera but there is only so much time and many people looking for help. Our seminar is designed to cater to your learning needs and we will take all the time, over as many days as it takes, to ensure all your questions are answered. We are at your service when you need us, not just during a quick one hour camera orientation.
14. I would rather not book with your travel agent - can I book with my own agent instead? Please understand that the use of the shipboard conference facilities is reliant on filling a group booking where one travel agent reserves and sells a block of staterooms. You may certainly book your own stateroom with your own travel agent but note that the price of the photo seminar rises by 50%.
Well, these are a few of the questions we get asked. If you have a different question, don't hesitate to call us at 1-306-241-8894 or email us at
info@dougallphotography.com
.
---
Dougall Photography- Simply Engaging 415 Herold Court, PO Box 39036, Saskatoon, SK, CANADA, S7V0A9 Phone: 306.241.8894 Email

All text and images copyright Dougall Photography. Copying or reproduction in any form is prohibited without express written permission