Pioneer Town, California? Ghost town in British Columbia? Nope, the HO model railway at the Living Desert, Palm Desert, California. You can make even the smallest scenes seem like they are real by using a telephoto lens, shooting from ground level and using a wide aperture. This gives the image the same perspective as if you were very small and standing on the ground. The wide aperture gives a narrow depth of field similar to a life size landscape. To complete the illusion, you need to watch the background to ensure there are no "giant" people standing in the background tol spoil the illusion.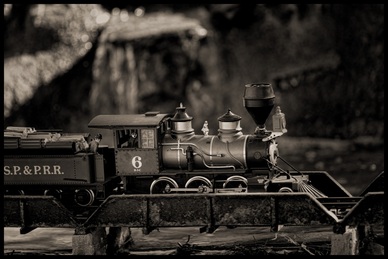 Another Living Desert shot taken at "ground level" (actually I was crouching down) with a narrow depth of field - notice how the waterfall in the background is out of focus. Converting the picture to B&W gives it more of a period feel, I think. The small model fireman on the train gives away the fact it's a model and not the real thing, but I like the overall look and the tonal range in this image.

Give this a try next time you are near anything miniature. Just image you are small enough to walk around in the scene and shoot from that "eye level". Use a long lens and a wide aperture and you should have images that look very real.