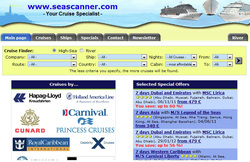 Even if you never choose to book with
Kreuzfahrtberater GmbH
in Ahrensburg, Germany, this specialty cruise travel agency maintains one of the most useful web sites for potential cruisers. At their web site,
www.seascanner.com
, you can research available cruises from all the top companies, including German language only cruise line AIDA. One of the interesting features of this web site is the ability to see available cabins even if companies such as Princess don't show cabin availability on their own site. This is very helpful in determining which category of cabin may be available so that you have some cabin numbers you can inquire about when you contact your usual travel agent.
Another neat feature is the placement of every cruise ship on a Google map. This position is based on the itinerary of the ship and may or not be accurate based on weather or mechanical issues.
All in all, this is an interesting web site to keep bookmarked as it may help you with room selection information not always available on each cruise line's web site.