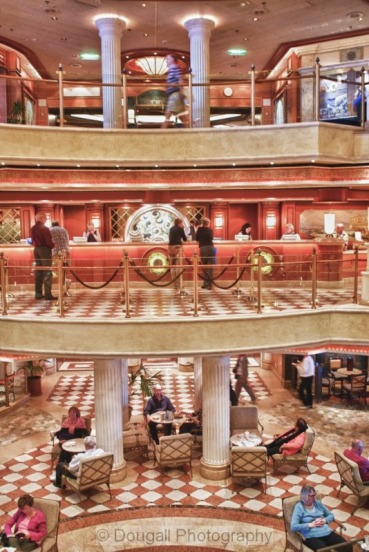 We are often asked by non-cruisers what it's like on board ship - are the stairs hard to climb in bad weather or is there anything to do while on board? This is the central, three-storey atrium on Crown Princess - not the spectacular, sky high central plazas on some mega-ships but illustrative at least.

The lowest level of the atrium has the International Cafe with wonderful coffees and pastries available throughout the day. The second level has the hotel front desk with shops flanking it on both sides. The third level has additional shops available. Large winding staircases grace each side of the atrium while banks of gleaming elevators are available across from this view.

This was the largest ship we have been on. Built in 2006, Crown Princess holds just over 3000 passengers. While we were afraid she would be crowded and slow to load and unload, we found her surprisingly easy to move around in and to get on and off of. While she doesn't have the rock climbing walls and ice skating rinks of a mega ship, there were a great many activities on board to take part in, including a putting green 19 stories up at the aft end off the ship.

If you find an itinerary that Crown Princess is sailing that you are interested in, you won't go wrong with this elegant and well laid out ship!