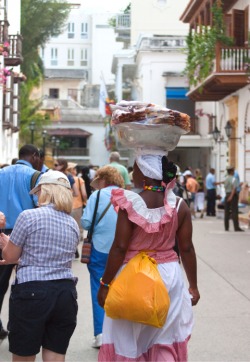 Downtown Cartegena
While the Caribbean is one of the most popular cruise destinations in the world, a transit of the Panama Canal is still seen as rather "exotic". Several things make these itineraries seem more unusual than the regular "island hopping" cruises:
a different beginning and end to the cruise. For full transits of the canal, ships can start in LA and end in Ft. Lauderdale (or the other way around), so passengers need to make two, one-way travel plans,
the Panama cruise season does not go all year but is basically a mirror of Alaskan itineraries and runs from October to April with the Central American rainy season not ending until November/December,
Panama transits tend to be 14+ day plus, making them more of a time commitment than the 7 day Caribbean cruise.
because of length of the cruise and the cost of the canal transit, these are more expensive than a usual Caribbean cruise.
the canal can only accommodate ships up to "Panamax" size, making ships like Coral Princess the largest ones that can transit the canal. This leaves the new mega ships unable to do the crossing at this time.
A Panama transit can seem more like an urban tour as the ports of Cartegena, Panama City and Acapulco are large cities and offer a different atmosphere than smaller ports in the Caribbean. Be assured, with stops in Huatulco, Aruba, or Cabo San Lucas, there are still plenty of beaches to explore. With cruise lines also including stops in Costa Rica or Nicaragua, passengers can also do a little jungle exploration.
The transit of the canal itself takes ships through three different sets of locks and Gatun Lake. This literally immerses you in the history of another time as two nations, France and the United States, designed and eventually completed what was the most ambitious engineering achievement of its day. If you approach the canal from the east, your ship will enter the first set of locks at dawn and will take until mid to late afternoon to clear the last locks on the west side of the canal.
Along the way you will see engineering activity maintaining the current canal and work on the addition of new, longer locks to allow larger ships through the canal system. Jungle crowds in on both side of the navigation channel and it is easy to see how difficult it would be to build anything in this area during the dry season let alone the rainy one.
If you have "done" the Caribbean and are interested in a different itinerary in this part of the world, consider a Panama Canal cruise - either into and out of Gatun Lake or a complete transit. The ports are varied and interesting and the transit itself is a true wonder.