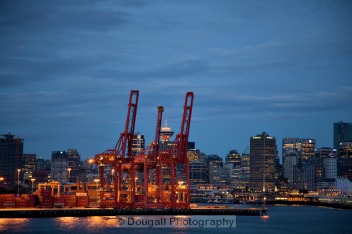 Vancouver Dawn
One of the least appreciated photo opportunities on a round trip sailing out of Vancouver is an early morning cruise under the Lion's Gate Bridge and up Burrard Inlet. City buildings will either be lit up in the pre-dawn darkness or the sun will be rising behind them, casting an arc weld bright light across Coal Harbour.

On this arrival, the ship was headed for Ballantyne Pier to the east of the usual Canada Place dock. The route to the pier takes the ship right by the main Port of Vancouver docks which are lit up during the night. I am always amazed at how quietly such a large ship slips through the water so close to shore. It barely moves and is virtually silent in its progress.

The cargo cranes were wonderfully lit that morning and looked like artists' sculptures sitting on the shore. The last morning of a cruise is a sad time as we contemplate leaving "the bubble" for the real life of shore so it was a nice perk to have this great view just before we had to disembark!