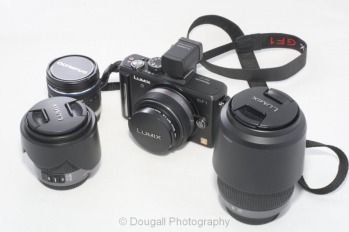 Lumix GF1 and Lenses
Recently I made a business trip to Chicago where I knew I wouldn't have the space to carry my usual camera gear nor would I have sufficient free time to use the full kit that I carry. In spite of this, I still wanted to have a camera (and a selection of lenses) capable of producing images I could sell for stock. I decided that I would rely solely on a camera system I have just begun to use in a serious manner - the small 12MP Panasonic EVIL camera, the GF1.
You're looking at 1.4kg of camera gear to the left. With all the lenses. With battery. With viewfinder. There are three zoom lenses that span 9 - 200mm. As this is a micro four thirds camera, that's a range of 18 - 400mm on a full frame camera. In addition, there is a 20mm (40mm full frame equivalent) f/1.7 for low light work. By comparison, my Canon 5D MkII with battery grip and 24-105 lens weighs in at 2kg. The entire GF1 rig fits into my briefcase which also holds my netbook, cables and all the paperwork I need for my business meetings.
One evening when some colleagues, my wife and I had a few hours to ourselves we headed into downtown Chicago to walk the Magnificent Mile. Happily it was approaching the magic hour as the sun disappeared behind the Chicago skycrapers and the street lights began to come on. I was able to get a great shot of the
Carbide and Carbon Building
- now a Hard Rock Hotel - with the lit street lights in the foreground. With the camera and the image stabilized 14 - 45 zoom only weighing 500 gms it was a breeze to hold steady even at very low shutter speeds. I took a number of pictures in Millennium Park long after sunset and the hand held, unbraced shots taken at a 1/10 of a second were acceptably sharp.
Using the LCD finder is quite easy. Many have complained about the low resolution of the finder, its high cost and inability to render the entire dynamic range in a scene. All of these are true, and while the first two may be addressed in future versions of the viewfinder (or by using the G2 or GH1 cameras instead), the last annoyance can be addressed by referring to the live histogram in the viewfinder. The viewfinder will also tilt from its horizontal position through 90 degrees to vertical, making it a cinch to take low level shots simply by adjusting its position.
This is a camera that begs to be used to record RAW images. I have never been overly happy with the way Panasonic has processed JPG images in camera and prefer to extract the most detail and color from the RAW files. I have already had images accepted and sold on iStock, and since this is the measure of quality I use, I am quite happy with the RAW files that come out of this camera.
.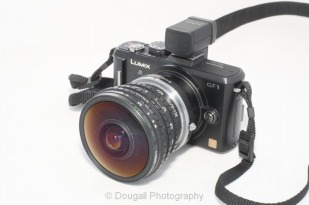 GF1 with 8mm Peleng Fisheye
An interesting feature of the camera is the availability of numerous adapters that let you use a variety of lens from other camera systems on the GF1. This has let me use some rather interesting lenses in a new, digital way. One of these lenses is my 8mm Peleng fish eye. It gives the GF1 a rather exotic look and the end results are significantly wider and far more "fish eye-like" than the Olympic 9 - 18mm zoom lens.

Why use something so retro? Isn't an DSLR like a Rebel or an EVIL camera with built in viewfinder a better thing? Call me old school but I love the look and feel of the camera and appreciate that an entire camera system can be put in your pocket - or briefcase. Are there performance and handling compromises in this camera - yes, just like every camera out there, but they are not insurmountable and give a slight quirkiness to the GF1.