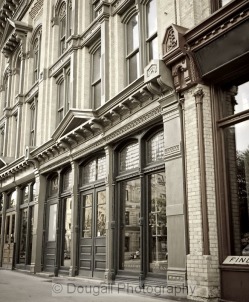 Building in Exchange District, Winnipeg
Travelling for business and leisure this summer gave me the chance to reacquaint myself with a city I haven't been in for 20 years - Winnipeg, Manitoba. While there, my brother-in-law - who is a great photographer, gave me a tour of the Exchange District in Winnipeg. The area is full of old office buildings and warehouses dating back to the turn of the last century. While you may not know it, you have probably seen a number of these buildings in various movies as Hollywood likes to come and film in this part of Winnipeg.

This photo is an example of the kind of architecture that can be seen for blocks and blocks in Winnipeg. The whole area cries out for careful urban exploration with buildings, shapes and textures at every turn.