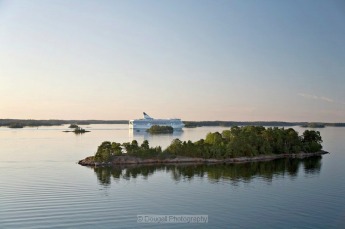 Car Ferry in the Stockholm Archipelago
After writing
What Camera Gear To Take On An Alaskan Cruise
, I have been asked several times if I recommend different gear for other cruises. There are two things that affect what I carry - what the airplane journey will be like and what I expect to photograph. Since Alaskan embarkation ports are relatively close to home, the journey is simple, short and not prone to the limitations of trips outside North America. Because of this, I don't mind carrying more gear on these short "domestic" hauls.
Alaska, more so than most other cruises, holds the promise of wildlife on land and sea - but often at quite a distance. This means that I want my longest lenses and a couple of DSLR bodies so that I can be ready to go from landscape to wildlife work.
So, with shorter distances to travel, less restrictions of cabin luggage and the need for longer lenses for wildlife, I find myself carrying more gear. This is a luxury of choices that I just don't feel I have on long international trips. While I will take two camera bags to Alaska - one for travel and one to use at our destination, everything has to fit into a single, multipurpose bag on long trips. I opt for a
ThinkTank Urban Disguise 40
although larger ones are available. This is a messenger-style shoulder bag that holds all the gear I would want to carry around all day. Into it I will pack a Canon 5D Mk II with grip (usually stored without a lens attached), a 24-105 lens, a 70-200 f/2.8 IS with 2X extender, a Canon S-90 backup (a lot lighter than the Canon 1D!), my netbook in the back pouch, and various memory cards, GPS adapter and other sundries in the front pouch. I also throw a small flash and 50mm f/1.4 into my suitcase along with a tripod if I choose to
look like a hobo
on the trip!
Once at our destination, I unpack the Urban Disguise and only put into it the things think I will need on a particual day trip. My preference is often to go ashore with only the 24-105 and for my shooting style, that is often all I need. Photography friends of mine would leave that lens behind in favour of the 70-200 so it really does come down to what you like to shoot with.
Do you have the perfect combination of camera gear to take on a cruise vacation? Leave a comment and let us know.