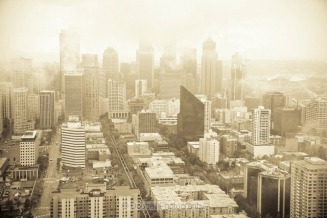 Rain Over Seattle
First, don't touch that camera dial that gives you black and white or sepia photos right out the camera. Yes, go ahead and use the VIVID or LANDSCAPE color settings, but please don't go so far as throwing out most of the color in your photographs. Wait until you get back home and do just a little post processing to make your photo into an old time sepia image.

This image was taken during a one day port excursion in Seattle. As we pulled into Pier 66 it was dry but cloudy. By the time we made it to the top of the Space Needle it was cloudy almost to the street and very rainy. A wall of fog wrapped around the observation deck with no sense of whether you were one foot or a hundred off the ground. As I stood there the fog lifted for a few moments and I was able to quickly take a some photos down into the city.

Looking at the photos once I was warm and dry, I could tell that the rain had wiped out most of the color and some of the sharpness in the images. Rather that try to take the pictures through post processing and make a sunny day out of a downpour, I decided to emphasize the fog and the wet instead.

Converting the image to sepia eliminated what little color was in the image and leaves the viewer to concentrate on the forms of the buildings instead. Adding a bit of vignetting draws the viewer's attention to the center of the image and gives the entire picture a vintage feel. I think the image works much better as one that embraces the weather conditions of the day. What didn't work as a color image works much better as a simple toned image.