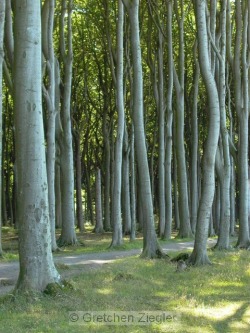 Forest Near Warnemuende, Germany
This picture was taken in Warnemuende, Germany. My mom and I did a bike tour and this took us through farmlands, forest, and along the coast. This forest, believe it or not,
was along the coast. The beauty of the trees swept me away with their colors and uniformity. I felt like I was in the forest of Hansel and Gretel.

This shot was taken with my
Leica Digilux 1 (and I can blow it up to 11 x 14 with no pixelation!!). One of my "bucket list" items is to go back here and take more photos at different times of day. I have
actually sold this photo in all sizes at local craft shows. My biggest compliment was to have another photo enthusiast buy a copy and cry that she never saw anything so
beautiful.
As an aside, this forest had an inn nearby that was reasonably priced and also rented bikes with their rooms!
We are very pleased that Gretchen Ziegler (
PicsByGretch@gmail.com
) was kind enough to write this guest blog and to illustrate it with one of her wonderful photos. Thanks Gretchen!