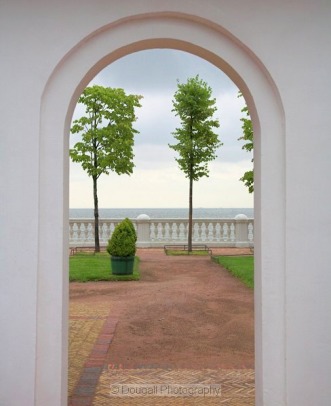 Baltic Sea from Monplaisir Palace
Peter the Great built Monplaisir Palace, northeast of the main Peterfhof palace and beside the Baltic Sea, in 1723. He entertained his closest friends in this small summer palace which offers views across the Baltic Sea to St. Petersburg and Kronshtad. The palace is protected from the north winter winds by a wall with a number of archways. These openings nicely frame the view of the Baltic that Peter the Great would have enjoyed almost three hundred years ago.

If you are in St. Petersburg and make your way onto the Peterhof territory, save some time to visit the outlying palaces like Monplaisir; you will not be disappointed by the intimate feeling of these smaller buildings.