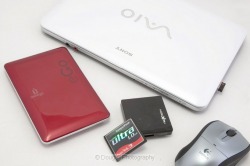 Netbook, external drive and accessories
Time was when we went on a long trip like an Alaskan cruise we had to calculate how many pictures per day we would take and then buy and carry a great deal of film with us. Heavy use for me used to be two 36 exposure rolls a day. Those days, thankfully, are long gone. The problem today is we take more pictures and go through memory quite quickly. I can't believe that even with a 32GB card in my Canon 5D MK II and close to 1000 exposures available, I still seem to have to ration my memory cards on a longer trip.
If you're are headed on an Alaskan cruise, chances are you are going to be taking a lot of photos - possibly more than will actually fit on your memory cards. Running out of card space while on holidays can be a bit of a hassle, but you have several options available to you before and after the fact:
1.
Buy more cards before you go
: memory today is cheap. I can walk into my local Costco and pick up a 36G card for about $100. Back in 2001 you couldn't buy 256MB of memory for that kind of money.
2.
Buy more cards along the way:
many ports have shops that will sell you additional cards at only slightly usurious rates. Still, it would be cheaper to buy them on shore than from the photo shop on your ship!
3.
Record only one format:
if you are used to recording RAW and JPEG's at the same time, go for the RAW and post process to JPEG later. Depending on your camera, this could let you take 25% more photos on the same memory card. Going only for JPEG's will let you cram more images into the same amount of space as RAW files, but you might not want to forego the flexibility of RAW.
4.
Delete some of the images that just don't work:
while you always want to bring back all your images and edit them later, sometimes this is the only way to get more memory card space. Be very careful to erase only the images that don't capture the right moment or composition. It is dangerous to judge exposure on the small, bright LCD screen of a camera.
5.
Backup onboard:
check with the computer lab onboard ship to see if there is a time set aside for passengers to transfer their pictures to DVD. Some labs still only burn CD's which hold next to no data. Even standard DVDs only hold 4.7 GB, meaning my 32GB card would need 7 single sided DVD's to transfer all images. As an alternative to DVD's, if you own a large thumb drive (32GB), you can have the capacity of 7 DVD's in a tiny device, but it still may not be enough backup space for you.
6.
Backup onshore:
use an onshore Internet Cafe to transfer (or upload) images. In Alaska,
Seaport Cyber Cafes
are available in most ports. Currently rates are about $6.00/hour. For free Internet access, try the public libraries in any port. Be warned though, these are popular places and you will want you to get there early.
7.
Bring your own laptop:
I travel with a netbook with a 250GB hard drive and a small, external 500GB hard drive. The netbook is my solution. It's small and easy to carry and lets me backup my images in my cabin at any time for no additional cost.
For me, bringing lots of memory and a small netbook to back everything up works well. Think through some of your options ahead of time as your options diminish once your are on your cruise. There is nothing worse than running out of memory just as the whales begin to breach!