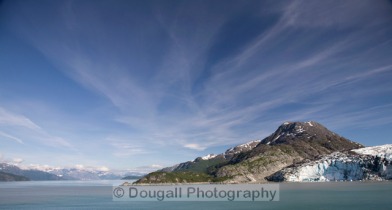 Glacier Bay, Alaska
Alaska is a land of beauty and wonder. Every place you turn there is something to take your breath away - whether it is a snow capped mountain or the price of a latte on your cruise ship. Friends and family who are about to cruise to Alaska for the first time often ask what are the things they shouldn't miss on their trip. Trouble is, with literally a thousand experiences to be had, it's difficult to choose, but choose we have done. Don't expect the usual tours and trips that you are likely to encounter, instead this is a very personal top ten list of things to see and photography between Ketchikan in the south and Hubbard Glacier in the north.

You will notice that this is a list of land and sea photo opportunities. It's not that flightseeing isn't spectacular, but I have never taken one and have no experiences to report on. As someone who has lived in the north, I don't fly in small planes with pilots I haven't known for years - it's just a thing I have.

1. Totem Bight State Park, Ketchikan: beginning in 1938, a collection of totem poles has grown on this beautiful spit of land overlooking the Tongass Narrows. Today there are 14 totem poles stand here along with a traditional Tlingit clanhouse. Given the beautiful setting and wonderful native artifacts, it's a place to happily spend a few hours. As a bonus, the Potlatch Totem Park is within easy walking distance and displays modern totem poles and other Tlingit buildings carved by local artisans working on the site.

2. Creek Street Historic District, Ketchikan: what was once the red light district of town is now home to shops, restaurants, apartments and bed and breakfast establishments. The boardwalk, running along Ketchikan Street, offers numerous photo opportunities as both meander from Dock to Stedman Streets. A funicular runs from about the middle of Creek Street up to Cape Fox Lodge where the views are worth the few dollar cost of the ride. Consider walking down "Married Men's Trail" back to Creek Street once you have had a look around.

3. Whale Watching, Juneau: while there are several ports where you can go whale watching, the tours leaving out of Auke Bay in Juneau usually spot whales somewhere in their travels. In addition, there will always be sea lions hauled out on a navigation buoy that the tour ship passes by. Most tour boats also stop in front of Point Retreat Lighthouse which has been recently restored by the Alaska Lighthouse Association.

4. Mendenhall Glacier Hiking Trail, Juneau: for those who want to strike out on their own, taking the Blue MGT shuttle bus from the cruise dock to the Mendenhall Glacer means you have time to explore on your own. Eschew the paved tourist trails and head off on the East Glacier Trail Loop (2 - 3hrs) which winds through old growth forest and past waterfalls and streams. The West Glacier Trail Loop (2 - 5hrs) will take you right up to the face of the glacier. Return to port on the same MGT shuttle you came out on.

5. Ship Registry, Skagway: on the eastern side of the Railway Dock in Skagway there are paintings of ship crests and names commemorating the first arrival of ships to Skagway as far back as 1917. Once you have ridden the railway to the Yukon or explored downtown Skagway, take a few minutes to check out this impressive artwork on the cliff face.

6. Sea Otter Rafts, Sitka: for a small port, there is a great deal to do in Sitka. This is the place to take a marine tour if you want to see large numbers of sea otters floating together in rafts. Chances are you will also see sea lions, seals and perhaps some whales as well.

7. Totem Poles in Sitka National Historic Park, Sitka: fifteen totem poles are displayed in old growth forest around the park visitors' centre. The paths are level and clear making this park easy to explore. There is a visitor center where various artists practice wood carving that tourists can watch. As walk through the park will also take you to the Alaska Raptor Center to see a diverse collection of captive and recovering raptors from around North America.

8. Glacier Bay National Park and Preserve: it takes most of the day to make the stately run in from the mouth of Glacier Bay to the Grand Pacific Glacier at the north end of the park. With the Margerie Glacier right next to the Grand Pacific, ships stop and slowly rotate for an hour or so for passengers to view the two large cliffs of ice. On the way out, many ships make a side trip to view Lamplugh Glacier for a few minutes. Marine mammals can often to seen along the way with harbor seals near the glaciers and whales near the entrance to the bay.

9. Hubbard Glacier, Yakutat Bay: Yakutat Bay is home to the Hubbard Glacier which is about 30 miles past the entrance to the bay. Hubbard is three miles wide, so you better start taking pictures early if you want to get all of this glacier in! Hubbard is so large that it creates its own weather with a cold wind blowing off the ice until you are almost in front of the glacier. Cruise captains, while always erring on the side of caution, like to boast to other captains about how close they were able to get their ship to the glacier. Hope for clear water with very little floating ice if you expect to get in close!

10. Tidal walks, Icy Strait Point: Icy Strait Point promises you the "Real Alaskan Experience" and as you arrive on shore via your ship's tender, you will see that you are not in a city port. Heading out behind the Cannery Museum the clearly marked hiking trails will lead you into the rain forest and along the shore where the clear ocean water reveals an abundance of sea life just off shore.

This post is open for comments so feel free to add other "must sees" or challenge my choices.