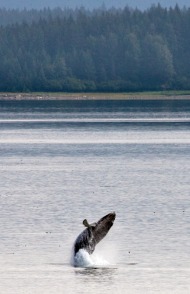 Breaching Whale Spotted From Balcony
I usually waffle a bit answering the question "
inside or outside
" as this is a very personal choice. The whole ship is available to you regardless of the "class" of cabin you invest in, so it might not seem like an advantage to pony up for the extra cost of a balcony. Having said that, an Alaskan itinerary is one of those special trips where a balcony can be a real advantage.
Because the scenery is so magnificent and the ship is often close to shore, passengers on Alaskan itineraries tend to be out and about on their balconies for hours. Yes, you can get the same view from any of the open decks, but there are times in the morning, late evening or even as you get ready for dinner that you can take a moment to step out on your balcony for a quick peek at the landscape slipping by.
Whale, porpoise, seal or eagle spotting is a popular past time on board and it's great to be steps away for the chance to see these fascinating creatures. The picture to the left was taken in Glacier Bay, and from the balcony of our stateroom. It was pouring rain for most of the journey through Glacier Bay and we didn't want to stand on the open deck getting soaked. Instead, we ordered coffee and tea from room service and sipped our drinks beside the open balcony door. When anything interesting presented itself, we simply stepped out onto the balcony.
If you are careful and cruise to Alaska in the spring or fall, you should be able to get a balcony for the cost of an inside cabin during the summer. So, I shall not waffle. If you're thinking about cruising to Alaska, consider a balcony - you will not be disappointed!