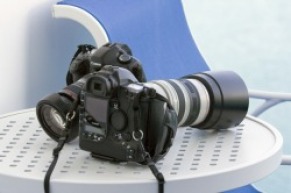 Canon DSLRs
Updated August 2013: Many people approach the purchase of a new camera the same way they would a game of Three Card Monte – thinking that any decision is going to be the wrong one and cost them dearly. With the evolution of digital cameras over the past decade there is less chance of making a wrong decision as cameras are now usually quite reliable and capable of taking excellent pictures. What is more important today is finding a camera that meets your photographic needs, has controls that make sense and is within your budget.




Cameras, to my mind, fall into a number of categories:
Fashion/jewellery: this category is all about size. They will fit in your pocket or hang around your neck like a piece of fine jewellery. Because of their size, they usually don't have all the features of larger cameras and often come with a limited zoom that goes from sort of wide to kind of long. These cameras are best used to capture people and landscapes. Moose on the distant horizon will look like dots in your pictures and not the majestic animals that they are.
Compact: these are still small cameras but this is not their sole reason to exist. Often these come with more semi-automatic and manual controls then their smaller cousins. They can be equipped with larger zoom ranges and sometimes with the ability to record JPG and RAW images. The lenses can be more sensitive in low light and able to magnify distant objects more than a fashion/jewellery camera. There is a new sub-class of cameras here that sport a large APS-C sensor in a small body - The Fuji X-100S is just one example. Equipped with a fixed lens that performs well in low light, this is a camera for the person who likes analogue controls and great image quality.
Superzoom: often larger than the previous two categories, these cameras have a zoom range sometimes able to magnify an object 12X, and capable of drawing in distant wildlife. While the previous two classes of cameras often do not come with any viewfinder other than the rear LCD screen, most super zooms have an electronic viewfinder like a camcorder.
Small DSLR: a digital single lens reflex camera with interchangeable lenses and a host of accessories that can be purchased. These are the smaller versions of their full-sized brethren; they produce very good images at the cost of having to carry everything around in some kind of bag. Canon's new SL-1 is one of the smallest DSLR's on the market - so small that for me, I don't find it particularly easy to operate with my fat fingers - try it out for yourself to see how it feels.
EVIL camera: no, not the spawn of Beelzebub, but Electronic Viewfinder with Interchangeable Lens camera. now sometimes called Mirrorless System Cameras. These cameras are a new class that are smallish units with, as the name implies, viewfinders like compact superzooms (some with external viewfinders that need to be attached) and interchangeable lenses like a DSLR. You can build a system of lenses to meet your particular needs but they can cost as much as some DSLRs. As I become older and don't want to carry heavy equipment very far, I am finding this category of camera more and more appealing. I am currently using a Fuji X-Pro 1 and love the fact that a complete system fits in a small messenger bag.
Full size DSLR: for those photographers who want the (arguably) ultimate in image quality, flexibility, as well as the costliest, largest and heaviest cameras to schlep around. These "system" cameras have every accessory you could imagine, a range of manual adjustments and the accompanying learning curve. These are for the photographer who is serious about their hobby and doesn't mind taking the time to learn how to get the most out of their camera.

So now you need to ask yourself a few questions to determine which class of camera you might want to look at:
Do you want a camera you can drop into your pocket? Look at Fashion, Compact or small Superzoom cameras.
Do you just want to take snapshots ? All cameras can take quick snapshots, but you will probably be happiest with a Fashion, Compact or Superzoom.
Are the majority of your photos family/people shots? Fashion and Compact cameras are for you.
Are many of your photos wildlife shots? Superzooms, MIrrorless or DSLRs would be good choices. If your wildlife moves quickly, stick to a DSLR.
Are you interested in using the manual controls on your camera to control the final image? DSLRs and EVIL cameras will usually give you the easiest access to manual controls.
Will you print out your photos? All cameras will easily produce 8 X 10 images and larger.
Is your computer relatively new? Old computers and new cameras can equal trouble if the file size of your pictures jumps up a great deal when compared to your old camera. Upgrade your computer, stick to shooting JPGs or keep the pixel count down on your new camera.
Do you want to shoot RAW or JPG? RAW images can stand up to more manipulation in a computer. If squeezing the last ounce of quality out of your image is important to you, look at a DSRL or possibly an EVIL camera. That said, the compact Canon S-110 shoots in RAW and still fits in your pocket.

Once you have thought about your photo/camera needs, go to a well stocked camera store and handle some cameras in a category that makes sense to you. See if it feels right in your hands – are the controls in the right place? Do you accidentally hit the on/off switch when you are looking for the shutter release? Is the menu easy to understand and work through? If you are buying a camera without a viewfinder, see if the salesman will walk you outside and let you try to use the screen in bright light – it may not be as easy to see an image in daylight as it is in the store.
Every camera is a compromise. It may be in the feature set, the configuration of the buttons, the zoom range of the lens or the price itself that you will have to bend on. The question always is, which features do you need and which ones can you live without? Buying most brand name cameras means that you are buying a degree of quality. The question is whether that quality matches what you are looking for in a given feature set.
Regardless of which camera you select, we will work with you during
our photo seminars
so that you can get the best out of it. All cameras are capable of creating great images under the proper circumstances. We will find those circumstances and make you proud of the images you create!
Have I missed a category or camera? Let me know what other considerations go into a successful camera purchase!