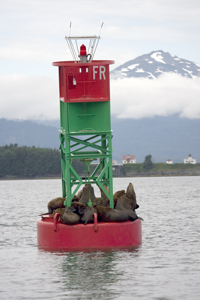 Point Retreat with Buoy and Sea Lions
Alaska is a funny place. One day it can be so hot and sunny that you want to dive into your suitcase looking for your Hawaiian shirt and shorts. The next day you could be standing in front of a glacier in the pouring rain wondering why you left your parka at home. The secret, associated with most outdoor activities, is to dress in layers and have sympathy for your extremities as well. This flexibility is really important on an Alaskan cruise because
bad weather is often good weather for photgraphers
.
Jan and I both take fleece vests or sweaters that zip up in the front and then a rainproof outer shell. This protects us in cold and wet conditions and allows us to wear the jacket or sweater separately should it not be as cold or wet. Remember, it may seem quite warm out on your balcony or on the promenade deck, but you may be in a protected area where you can't really gauge weather conditions. Out on a land or sea excursion you may find the weather more extreme than what you experienced on the ship.
Jan also brings along a pair of chenille gloves and a headband. Both are small enough to put into a pocket and deploy only if necessary. I have a pair of
LowePro gloves
that are woven with little non-slip nubs on the fingers. These gloves are good for most of the conditions that Alaska can throw at you during the cruise season. I also take along a short-billed baseball cap (like the ones umpires wear) so that it doesn't interfere with my camera or lens. I used to wear a regular baseball cap backwards, but at my age it makes me look somewhat odd - like I can't dress myself in the morning odd.
The trick is to be flexible and expect the weather to change. If you are out on a tour in the early morning you will have to dress more warmly than if you go out in the afternoon. It will probably be cooler if you are heading into the wilderness or onto the water than if you are staying in town shopping. Jan and I went hiking into the rain forest on a particularly warm day. As soon as we passed into the shade of the forest canopy, the temperature dropped significantly and it was great to have those layers of clothing to rely on. Finally, please remember that if the words "flight" or "heli" are in your tour description, chances are you are going somewhere cool - and I mean that in both senses of the word!
Try the layered approach and remember, the cruise line will be happy to sell you clothing in the ship's stores if you have miscalculated on your wardrobe choices.