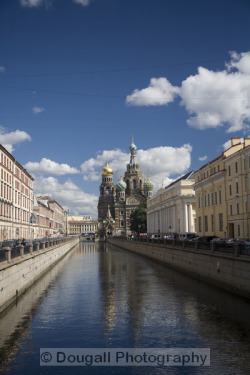 Canal View of Church on Spilled Blood
One of the challenges for photographers who travel is finding the "new view" of a place that has been shot countless times by thousands of visiting photographers. The wide view, the long view, the close up view of every tourist attraction have all been done by passing photographers and those who live close by. The challenge for us is finding the time and knowledge to capture a different and fresh interpretation.
The photo to the left is of the
Church of the Savior on Spilled Blood
, taken from the Italian Bridge over the Griboedov Canal in St. Petersburg. This is one of the regular tourist stops for photos of this magnificent church. The church, built between 1883 and 1907, is officially known as
The Resurrection of Christ Church
and was constructed on the spot that Alexander II was assassinated in 1881. Many tourists photograph the church from this vantage point and if you are travelling with a group tour, this may be the only "at a distance" view you will have the opportunity to get.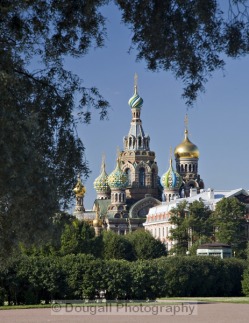 If you are travelling on your own, or with a knowledgeable guide, you would have the time to walk 400 meters north east of the church to the
Field of Mars
. This former parade ground is now a national war memorial and, in the early morning, is devoid of people.
We were lucky enough to be exploring St. Petersburg with a guide and driver and on the way past the Field of Mars we saw this view of the Church on Spilled Blood. Screeching to a halt on a busy road, Jan and I rolled out of the car and headed across the park. The angle from there produced a far more pastoral view of the church with trees and grass rather than streets and buildings. Jan and I spent some time moving around the park looking for the best vantage point.
As usual, I used a 24-105 lens while Jan used her favourite 70-300 zoom. Her pictures are my favourites of that day. She was able to frame the church with leaves around the image, giving it a more intimate view than my pictures that included more of the park and sky. Buyers prefer her image as well as it sells many times more often on iStock than mine do.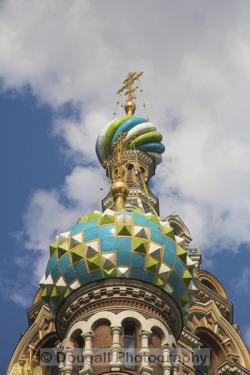 View from Canal
Sometimes we can't leave a group or have the luxury of our own driver and guide to find shooting locations for us. All is not lost though, in a search for a different view . While this could have been shot laying on the road outside the church, given the driving habits of most Russians, I wouldn't recommend it. This was taken from an even lower angle on a canal tour boat passing by the church. I was able to accomplish two things with this shot: isolate the church from a cluttered background by selecting only a part of it and, create an image taken from an unusual angle.
As I said in our posting about
Photography On Sea Days
, looking up often will produce a pleasing angle and photo. Sometimes you also need to
Get Up Close and Personal
with your subject to eliminate the clutter that may surround it. As you encounter locations in your travels that have been photographed a hundred times, take one of two options - move back and around to find a view that includes something new and different in the foreground, or get up close and personal and find the details. If you have the time and flexibility, try both!
These are some of the techniques that we will be practicing during our
upcoming photo seminars
to bring interest and impact to your photos. We would be happy to explore Alaska with you and your camera!