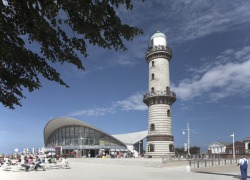 Warnemunde Lighthouse and Teepot Restaurant
Warnemünde
is a quiet, little
port
in the north eastern coastal region of Germany. Its attractions are an incredibly long beach, hand arbeit lace and the train that will take cruise passengers to Berlin. Most cruise guests see about 500 feet of Warnemünde as they walk from the pier to the train waiting at the neighbouring station that whisks them into Berlin for the day. The train ride is 3+ hours each way, making for a long day. Jan and I chose instead to stay in the local area and we took a tour of Rostock, the larger city close to Warnemünde.
Downtown
Rostock
looks like many other Hanseatic League cities - in other words, quite Dutch. In spite of the fact that the city was bombed to oblivion in 1942 and 1945, buildings have been rebuilt and reproduced with astonishing detail to the original look. Walking through the historic main shopping district and past several open air markets is a great way to spend some time.
There are a number of interesting churches you can visit as well.
St. Peter's Church
, built in the middle of the 14th Century, has a tall polygonal spire with a viewing platform partway up giving excellent views of Rostock and the Baltic Sea. The residential district surrounding the church is wonderful and quiet to walk through.
In Warnemünde itself the town lends itself to exploratory walks and the discovery of small shops and little restaurants to pass the time in. Running parallel to the train tracks but on the other side from the pier, the Alter Strom (Old Canal) is lined with restaurants and picture perfect houses. Jan and I simply walked the streets, peering into shop windows and admiring several interesting churches. Our explorations eventually brought us to the very long (3 km) beach which stretches along the Baltic Sea. At one end is a working lighthouse built in 1897 and the
Teepot Restaurant
in a building that looks quite pretty for East German architecture.
We put in a full day exploring in and around Warnemünde and would recommend this pretty town to anyone who wants to get up and personal with the sights, sounds and people in this part of Germany. A wonderful thing happened during sail away just at sunset. As the ship manoeuvred away from the pier, the loudspeakers began playing "Time to Say Goodbye" by Andrea Bocelli - a nice touch. The ship slowly made its way down the channel between Warnemünde and the Baltic, and a flotilla of local tour boats lined up on both sides of the ship and moved with us. They were filled with German tourists out for sunset cruises. As we made our way along, the small boats accompanied us, blowing their horns with passengers waving, singing and toasting us as we left a surprisingly wonderful port.