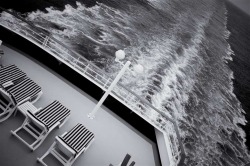 Cruise Ship Fantail
The biggest fear that most first time cruise guests have is that they will get seasick the moment the ship casts off from shore. They have an image of spending an entire voyage shuffling between their sick bed and the medical clinic. The truth is that unless you are very susceptible to motion sickness or you are unlucky enough to experience very rough seas, you will be just fine. Modern cruise ships are large enough to cut through most choppy conditions with little swaying. Stabilizers built into ships also help center them in rough water.
The roughest conditions we have been in have both been while cruising in Alaska. On a recent crossing of the Gulf of Alaska out of Whittier we encountered Gail Force 7 conditions - certainly not as rough as it can get but bad enough for the Captain to close the outer decks to passengers. We were aboard
Coral Princess
headed to Glacier Bay and while the ship certainly moved around, we did not think we needed to go to our room to lie down.
The first time we ever cruised we were aboard
Regal Princess
just north of Vancouver Island. Given slow rolling seas, a reduced speed and a depth too shallow to put out the stabilizers, Regal developed a slow, deliberate roll that sent many of us to our cabins. As soon as we reached deeper water where the stabilizers could go out, the ship (not to mention Jan and I) returned to a stable condition.
Some cruise passengers book a cabin that is as close to midship and on as low a deck as possible as this is where the "sweet spot" with the least amount of movement is. Wherever you are on a ship, if you are afraid you are going to be ill, go to an open deck for fresh air - preferably midship - and watch the distant horizon to give your eyes (and brain) something relatively fixed to stare at. Stretching out on your bed, eating light and restricting your alcohol intake will also help suppress seasickness.
A number of seasick remedies are available including Dramamine and Bonine pills (get the non-drousy formulas) and transdermal patches worn behind ear like a bandage. Eating ginger and green apples helps some passenger fight seasickness while other swear by acupressure wristbands.
Just remember, whenever you are on a cruise you are bound to find one or two times when you can feel the motion of the ship - which helps you remember you are on an adventure at sea.