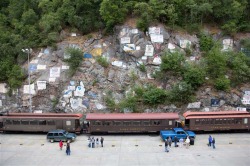 Railroad Dock, Skagway
Skagway came into existence when William "Billy" Moore and his son became the first European settlers to claim a 160-acre homestead in an area where the Tlingit people had lived and hunted since prehistoric times. Skagway, or Skaguay, has been translated from the Tlingit language to mean "a windy place with white caps on the water" or "Home of the north wind", or as several locals like to suggest "cold place where crazy white people live". Skagway is known today as the "Garden City" because the rain and long hours of sunlight cause flowers and gardens to grow with abandon.
Skagway
is a small town with a population of 860 in winter and over twice that in summer. These numbers are dwarfed by the 900,000 visitors – most of them cruise ship passengers – who arrive during the short summer season.
Popular excursions include riding the
White Pass Yukon Railway
up the pass and into Canada or taking a
Skagway street car tour
of town in vehicles that were the original touring cars in Yellowstone and Glacier National Parks.
The town is easy to walk around and the ships dock no more than a ten minute walk from downtown. If you are lucky enough to have your ship moored at the
Railroad Dock
, you will have a chance to see the "Ship Registry" painted on the cliff face immediately beside your ship. It is a long standing tradition that a ship's name is painted on the rocks during its maiden visit to Skagway. While no one knows exactly when this tradition started, there are ship names with dates back to 1917.
A good town to walk in and a great place to ride in antique cars and trains. Mind the wind though, it can be chilly!