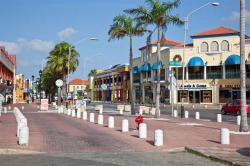 Christmas Day, Oranjestaad
I didn't realize that
Aruba
was only thirty miles from the sun. It's hot there. Shake you by the collar there. Get my shorts and t-shirt there. Let's have margaritas for breakfast there. Can I take my air conditioning with me there.
We sailed in on
Coral Princess
and docked next to downtown
Oranjestad
(Orange Town) just before dawn on Christmas day. This was our first port of call and we were still thawing out after leaving the deeply frozen north for this warmer climate. Stepping out on deck and into 100F and 100% humidity, my camera lens immediately fogged up - even my eyes developed a light haze. While I waited for the fog to lift we decided to make a run to shore before the sun came up and it became any hotter.
While there are wonderful opportunities to go diving, fishing and exploring the natural beauty of Aruba, we chose to take the more relaxing option of walking around Oranjestad instead. The downtown streets facing the harbor are lined with pastel coloured buildings housing every kind of tourist shop where you can spend from a few dollars on ice cream to thousands of dollars on a Rolex. Christmas was blissfully quiet as no stores were open and few of our fellow passengers ventured to shore so early. The accompanying photo is of the main street near the harbour - L.G. Smith Boulevard on probably the one day of the year when there is little traffic and fewer tourists about.
The motto on car license plates in Aruba is "One Happy Island" and the few locals we did meet were relaxed and friendly. The downtown is easy to walk through and there is quite a bit within a few block of the pier to keep the interest of photographers. Like many of the ports in Alaska, there are hawkers at the pier entrance who will
drive you to a beach
or take you
on tours of the island.

Aruba is a beautiful island and Oranjestad is a fascinating town just to walk around and enjoy. Next time I am going to prepare myself better from the change in temperature though by sleeping in my oven for a week or two ahead of time.