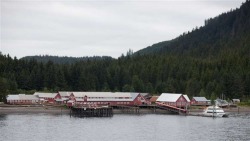 Icy Strait Point
The first time we arrived at
Icy Strait Point
it was overcast and very humid. There wasn't a sound as the ship glided to a stop just off shore from the converted cannery dock that served as the terminus for the tender run to shore. Smoke from house chimneys hung in the air and curled around the high hills to blend with the low slung clouds. Icy Strait claims to offer the "Real Alaska" adventure, and it appeared to have the perfect setting to fulfill this promise. The photo at the top of each of our web pages was taken on this morning.
Located on Chicagoff island fifty miles or so west of Juneau, this is a relatively new port of call for cruise ships with three or four calling each week. The town of
Hoonah
is located on the north shore of the island and is the largest village for the Huna, a Tlingit group which has lived in the area since prehistoric times.
Icy Strait Point, a few miles down the road from Hoonah, is where cruise ships tender their guests to. From here you can walk or take a shuttle bus to town, go off on bear watching expeditions, ride the longest
ZipRider
in the world, walk the hiking tails near the pier or simply hang out in the converted fish processing plant - now an interpretive center and gift shop.
For such a small community, the native corporation has provided visitors with many excursions that meet all activity levels and interests. It is quiet enough here that a short walk down any hiking trail will leave you with the feeling that you are alone on the island. There is so little boat traffic that whales surface and dive a few yards away for the pier. If you are lucky enough to be on an itinerary that stops here, you will appreciate how close nature is to you.