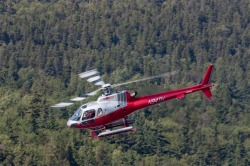 Temsco Helicopter, Skagway
All cruise lines offer shore excursions that they would like to sell you before or during your cruise. These excursions are definitely the way to go if you are looking for some of the more exotic modes of transportation like bush planes and helicopters. For other adventures such as local taxi/bus tours, they can often be booked right on shore with local guides. In Ketchikan or Juneau, the dock area is like a Moroccan bazaar with tour operators and taxi drivers competing with one another to offer cruise guests a wide range of activities - sometimes at prices below what the cruise company will charge.
We have taken both routes at one time or another. We have booked local tours in Ketchikan and rented a car in Juneau with no trouble at all. We have also taken some wonderful cruise line shore excursions that have been worth every penny. One excursion we have taken several times is a photo tour in Juneau that has both a land and water portion to it and is led by a local photographer/guide. Activities that are weather dependent such as taking the
tram to the top of Mount Roberts
in Juneau should be booked when you get to shore. The cost is essentially the same as booking through the cruise line but you might want to see if the mountain is shrouded in rain or mist before going up.
Something you will need to consider is the ship will only wait for late tours if they have been booked through the cruise line. If you are on your own, plan on returning LONG before the ship requires you to be back on board (times are always posted in your cabin newspaper the night before and on the gangway). Don't miss the ship - it really won't wait for you if you are on your own. We have seen passengers left behind on the dock, trying to charter a fishing skiff to ferry them out to the departing ship!