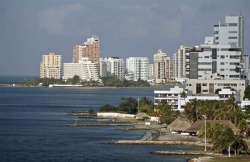 Cartagena High Rises
We arrived in Cartagena, Colombia on-board Coral Princess on a typically hot and humid day in December. The port was celebrating an anniversary and had a sound stage set up on the pier. School groups as well as professional musician took turns filling the air with the driving rhythm of Latin music and singing. As this was our first visit to Cartagena, we appreciated the musical welcome that emphasized that we were now on a new continent and in a new and vibrant culture.

Cartagena is a city of extremes – new high rises and colonial architecture all exist within a few minute's drive of each other. The best thing for travellers is to walk the streets of the colonial city and feel the excitement of the place. The heat settles over you like a warm wool blanket and you naturally slow down and seek the relief of the shade. Vendors prowl the streets everywhere offering to sell leather goods, toys, sunglasses or $25 Rolex watches. While the vendors are friendly and don't appear to be threatening in any way, they have no sense of personal space and will engage you in negotiations for their wares several inches from your face.

We had opted for a walking/bus tour of the city and on the ground we worked hard to keep up with our tour guide - a wonderful lady of a "certain age" who scampered through sun-baked plazas, through cathedrals and museums holding up a closed umbrella that quickly disappeared into the distance.

Later in the afternoon she led us up Fort of San Felipe, a huge 17th century fortress, like some adolescent lemur trailing puffing tourists in her wake. Let me just say that it's not nice to march gringos up such tall structures in the middle of the afternoon, but in spite of feeling like porters on a mountain trek, we made it to the top and back. Oxygen bottles would have been nice though.

This is a fascinating city and in spite of the fact that at the end of an independent or conducted tour you are going to feel like you were using a stair-master in a sauna, it's the kind of place that will draw you back again. The people are friendly and the history of this place oozes from every colonial door. Do yourself a favour and find a reason to visit this incredible city.