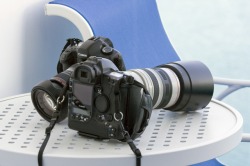 Black Cameras and White Lens
Big black cameras are like cute dogs. When you take either of them out for excercise, someone will come over and want to pat them. Both are great ice breakers and a wonderful way to meet people. I was once at the
Alaska Raptor Center
in
Sitka
taking photos of the rescued eagles that now call the Center home. I had, at the time, a
Canon D30
with a large, white
100-400 lens
. As I raised that combination to my eye a fellow guest stopped beside me and asked if I had a license for "that thing" and what caliber it was. That opening lead to a great discussion of all things camera and bird related.
That was just one of many wonderful conversations I have had with fellow travellers based on the color and size of a lens. When folks spot my camera, now a Canon 5D MkII, I am often asked if my camera takes good pictures. I usually say something like, "yes, the camera takes great photos, I'm just trying to figure how to find them in there!"
I was once standing by the railing on a cruise ship with the usual black camera and white lens when a petite, elderly lady slid up beside me. After looking at my photo gear for a few moments she pulled a very small digital camera out of her pocket and said to me, "you know dear, you should get rid of that old, heavy camera - new cameras are much smaller these days you know!" She then proceeded to show me how quick and easy it was to use her camera and how it fit into her pocket with room to spare. I thanked her for the advice and assured her I would look into more modern equipment just as soon as I got back home.
I love having the opportunity to meet and talk with fellow cruise passengers as I travel. I wonder if I picked up a
Canon 1200mm
lens if I would be able to have even more chats - although I am certain the lady with that tiny camera would be very disappointed in my choice :-)